Become more at one with yourself or incorporate a new type of fitness into your weekly routine with a yoga class at any of these serene studios in Music City.
The Best Yoga Studios in Nashville
Bend and Zen Hot Yoga Nashville
In a clean and bright, refurbished space, these hot yoga classes are available to help you find the best version of yourself.
Bend And Zen Hot Yoga Nashville creates a unified community where you'll connect with teachers and other students over the honesty and practice of yoga.
Whether your goal is to unwind and relax or build strength and muscle, there are classes ready to help you meet your goals.
Bend And Zen Hot Yoga Nashville will be the only yoga class you need.
Location: 3820 Charlotte Ave, Ste #150, Nashville, TN 37209
Chestnut Hill Yoga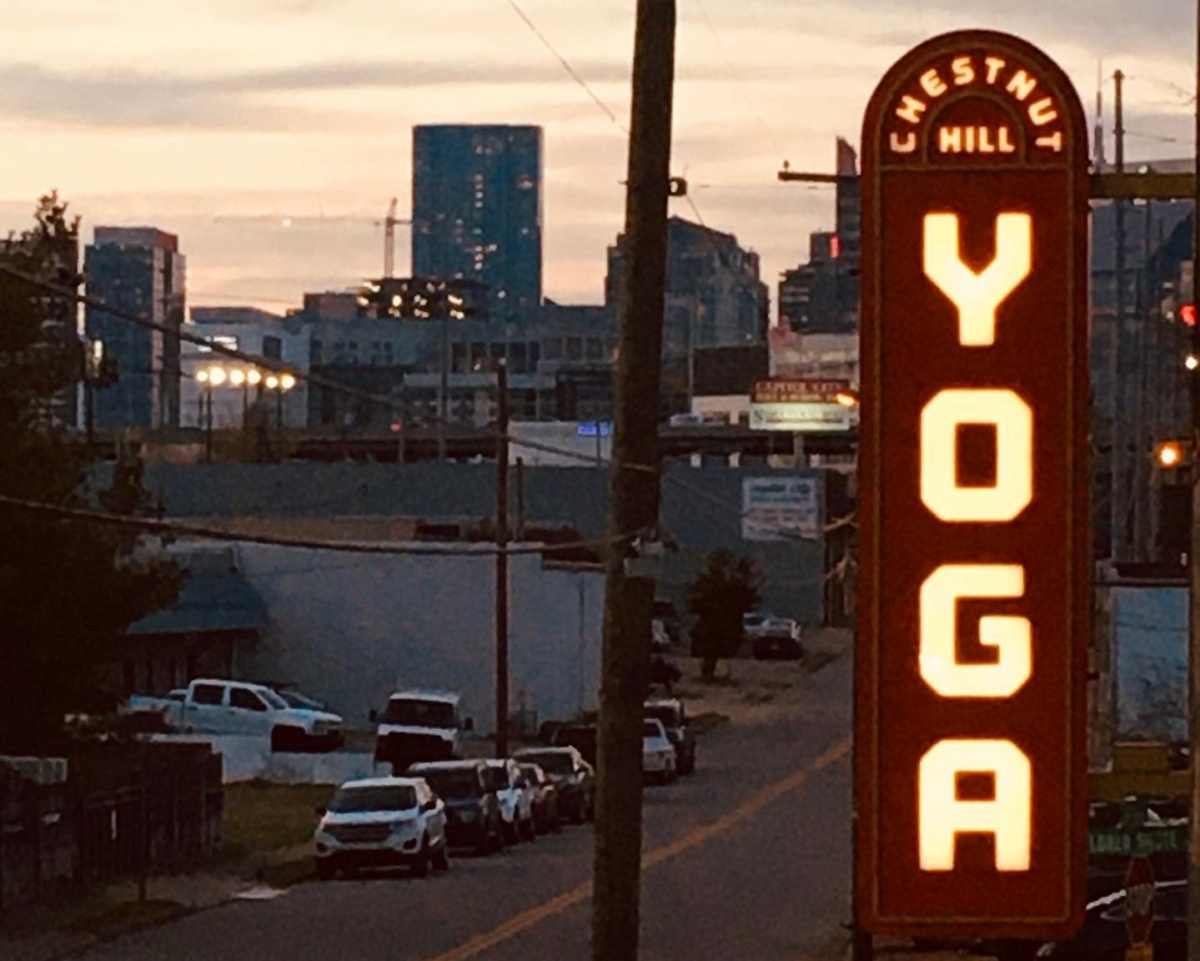 You'll find an Iyengar Yoga Studio in the heart of Nashville.
Chestnut Hill Yoga focuses on yoga for everybody with a beautiful and friendly environment paired with extraordinary instructors.
While the name has changed, they've been in business for over 20 years, helping people understand and practice the ancient art of yoga to better themselves.
They're here to accommodate any body, skill level, and ability. Chestnut Hill Yoga is one of the best studios for getting started or furthering your yoga practice.
Location: 1106 3rd Ave S, Nashville, TN 37210
Fahrenheit Yoga
This state-of-the-art 2-story yoga facility has open rooms and classes for men and women of any skill type who want to work on their yoga practice.
Fahrenheit Yoga offers various classes that can help you reach whatever goal you come through the door with.
Relax and unwind with this heated space while you focus on stretches and poses. Build muscle and strengthen your body with a more difficult class like Red Hot Power Vinyasa.
No matter your goal, or experience level, Fahrenheit Yoga is the only studio you'll need.
Location: 2909 12th Ave S, Nashville, TN 37204
Hola Yoga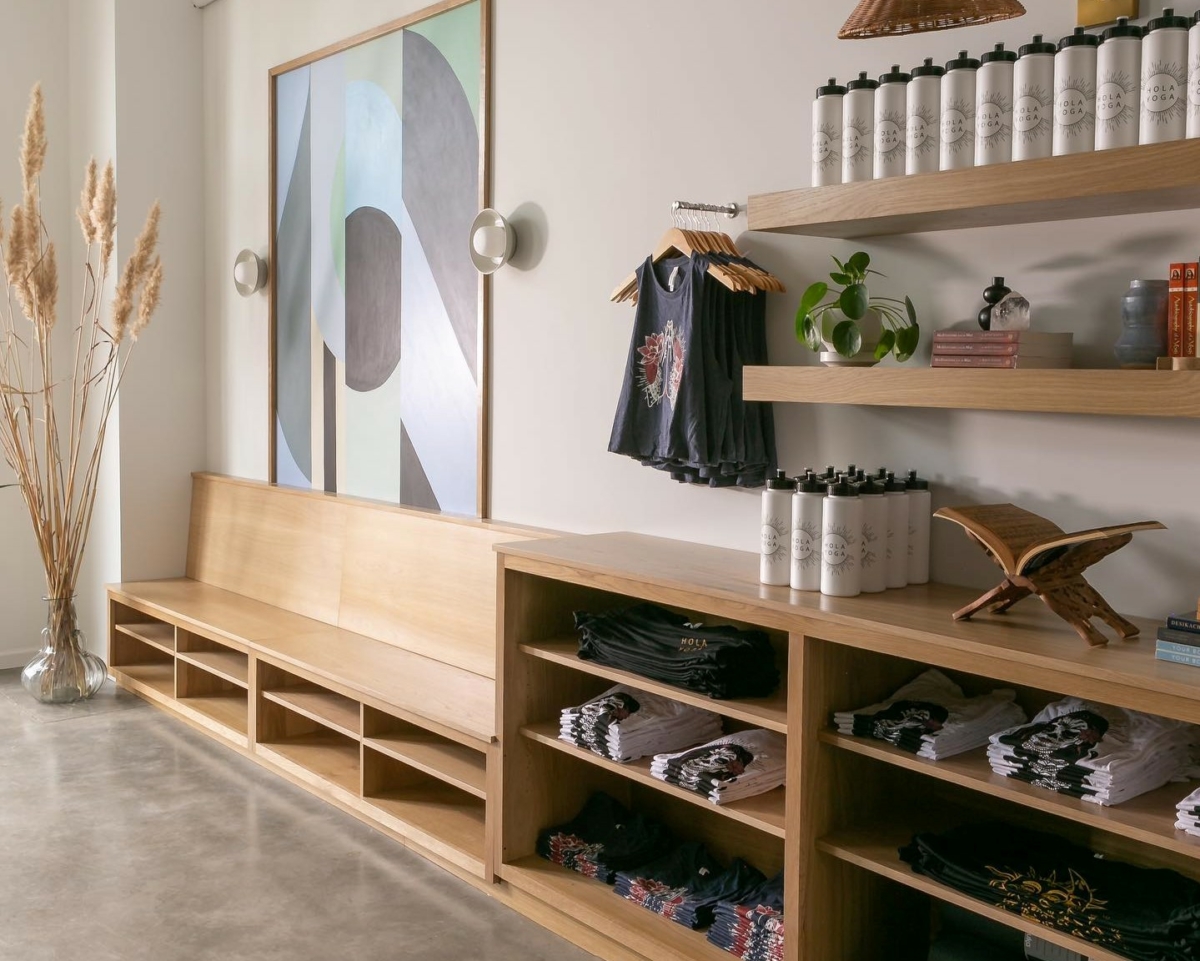 Here you'll find Nashville's leading Vinyasa Yoga Studio offering classes to students of all experience levels.
Hola Yoga is located in the heart of East Nashville and offers drop-in opportunities or unlimited classes with membership opportunities.
Vinyasa classes are their most dedicated practice, but there are multiple other options for all goals.
Restorative yoga is perfect after a long and stressful week to unwind and rejuvenate, while heated Vinyasa offers a more strenuous and physically demanding class.
No matter what class you join, the instructors will help you to feel welcome and walk through the poses as needed.
Hola Yoga is here to strengthen your relationship with the practice and your body, no matter where you're starting from.
Location: 1077 E Trinity Ln, Ste 102, Nashville, TN 37216
Hot Yoga of East Nashville
Being voted one of the best yoga studios in Nashville is what landed this studio on this list.
Hot Yoga Of East Nashville has been holding down this location for the last decade for people to stretch and connect with their minds, body, and spirit.
Here you'll find a place for everybody, no matter your previous experience with yoga. The instructors aim to help you reconnect and feel at ease within your own mind and body.
The hot studio can be more demanding, so those with lesser experience may want to try a non-heated class.
No matter the time of day, Hot Yoga Of East Nashville is here to help you unwind and reconnect with yourself.
Location: 807 Main St, Nashville, TN 37206
Nashville Yoga Co
Here is one of the most popular yoga studios in the Nashville area.
Nashville Yoga Co has classes for everybody and experience level, so they encourage you to join no matter your practice level.
This is a fun and welcoming community where they honor the history and traditions of yoga while making it more accessible to practice.
They're a certified Sumits Yoga studio, so they follow a more strategic and set series of poses and stretches.
Nashville Yoga Co offers a variety of classes, perfect for whatever goals you're trying to achieve.
Location: 6031 TN-100, Nashville, TN 37205
Nupower Yoga + Barre
Switch up your typical workout routine with this yoga studio's energetic and uplifting workout.
NuPower Yoga + Barre offers a new way to break a sweat with these intense and strength-focused classes.
No matter what goals you have, they have curated classes dedicated to helping you get there.
Strength, flexibility, restoration, Vinyasa, mindfulness, HIIT, they do it all here.
Plus, the barre classes go beyond yoga with ballet-inspired stretches and classes that will work your body in new ways.
Sign up for just a few classes or commit to the annual membership. Either way, NuPower Yoga + Barre will be your new favorite way to practice yoga throughout the week.
Location: 2218 8th Ave S, Nashville, TN 37204
Shakti Power Yoga
Join this fun and vibrant yoga community right in the middle of Nashville. Shakti Power Yoga offers a calming space to tap into your powerful and creative energy.
The practice here is focused on building strength, balance, and flexibility through this sustainable and energetic yoga practice.
No matter your previous experience level, the instructors and classes here will help guide you to strengthen your body and your yoga practice.
Give the classes a try with a trial package, sign up for a set number of classes, or join their membership for unlimited monthly studio time.
Shakti Power Yoga will be one yoga class you'll want to go back to over and over.
Location: 65 Music Square E, Nashville, TN 37203
Small World Yoga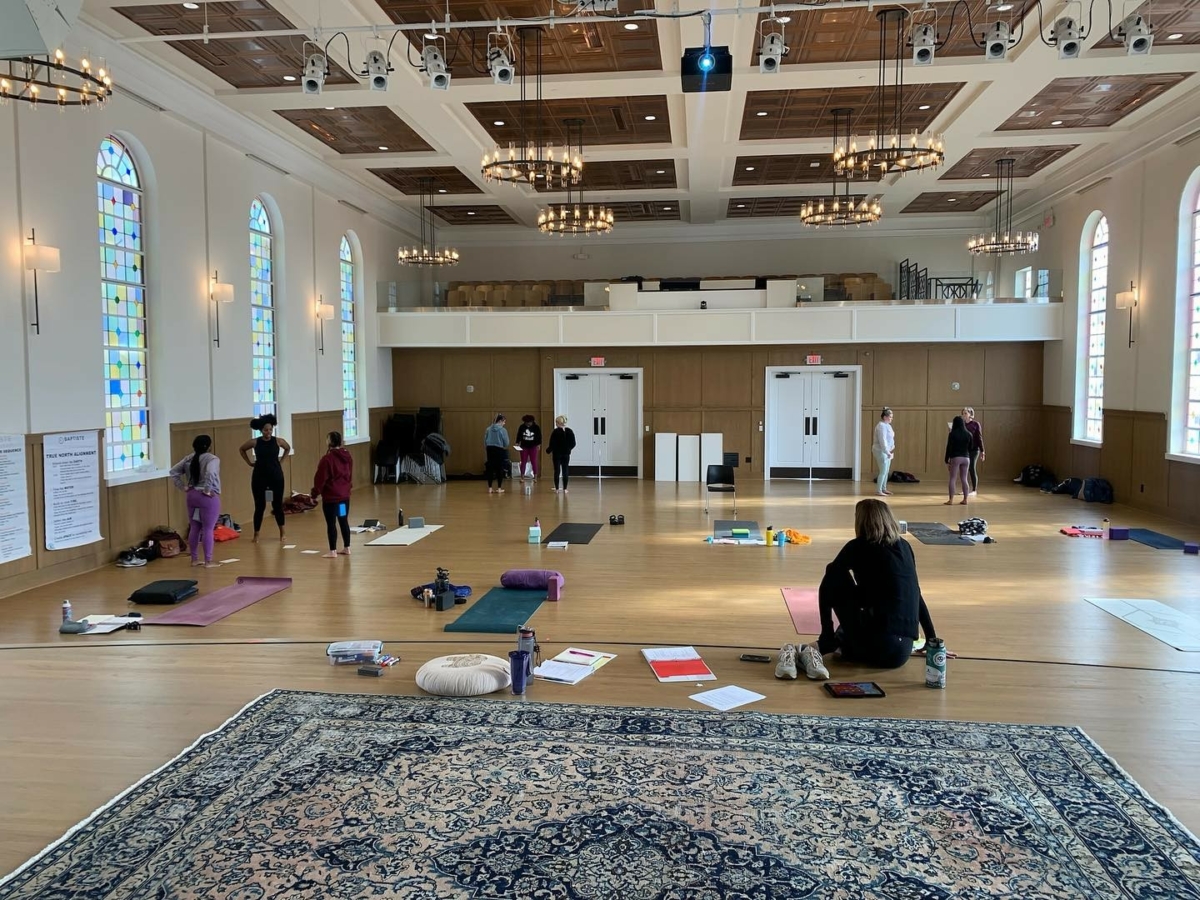 In a new space, this studio is dedicated to connecting people and creating community by increasing access to yoga in Nashville.
Small World Yoga strives to impact the world in a positive place and make yoga a practice that helps every individual.
The instructors here are knowledgeable in a range of practices, including trauma coping mechanisms, and the studio space is inclusive and accessible for any physical or mental ability.
They believe yoga should be available for everyone, and they run a yoga mat sale to help impact the local underprivileged community.
Small World Yoga is making a difference to yourself and the world around you through one yoga pose at a time.
Location: 1119 12th Ave S, Nashville, TN 37203
Steadfast and True Yoga
Visit in person or join these yoga classes online; you'll feel a strong sense of community either way.
Steadfast And True Yoga is a colorful and welcoming studio with limited class sizes available for drop-in at almost any time.
When you don't feel up to joining in person or have something else keeping you at home, each of their classes is streamed for the same cost as their drop-in class.
They have a handful of instructors and different classes depending on your goals.
No matter your experience, these classes will help you strengthen your body and connection to yoga. Steadfast And True Yoga is one weekly practice you won't want to miss out on.
Location: 1325 3rd Ave N, Nashville, TN 37208
Final Thoughts
Transform your mind and body in new ways with a few yoga sessions. You won't regret a mindful trip to any of these yoga studios across Nashville.