Chicken wings make a great snack, meal, or shareable bite for nearly any occasion.
When in Nashville, you're in luck; the city known for hot chicken knows its way around wings too.
The Best Wings in Nashville
Ghot Wings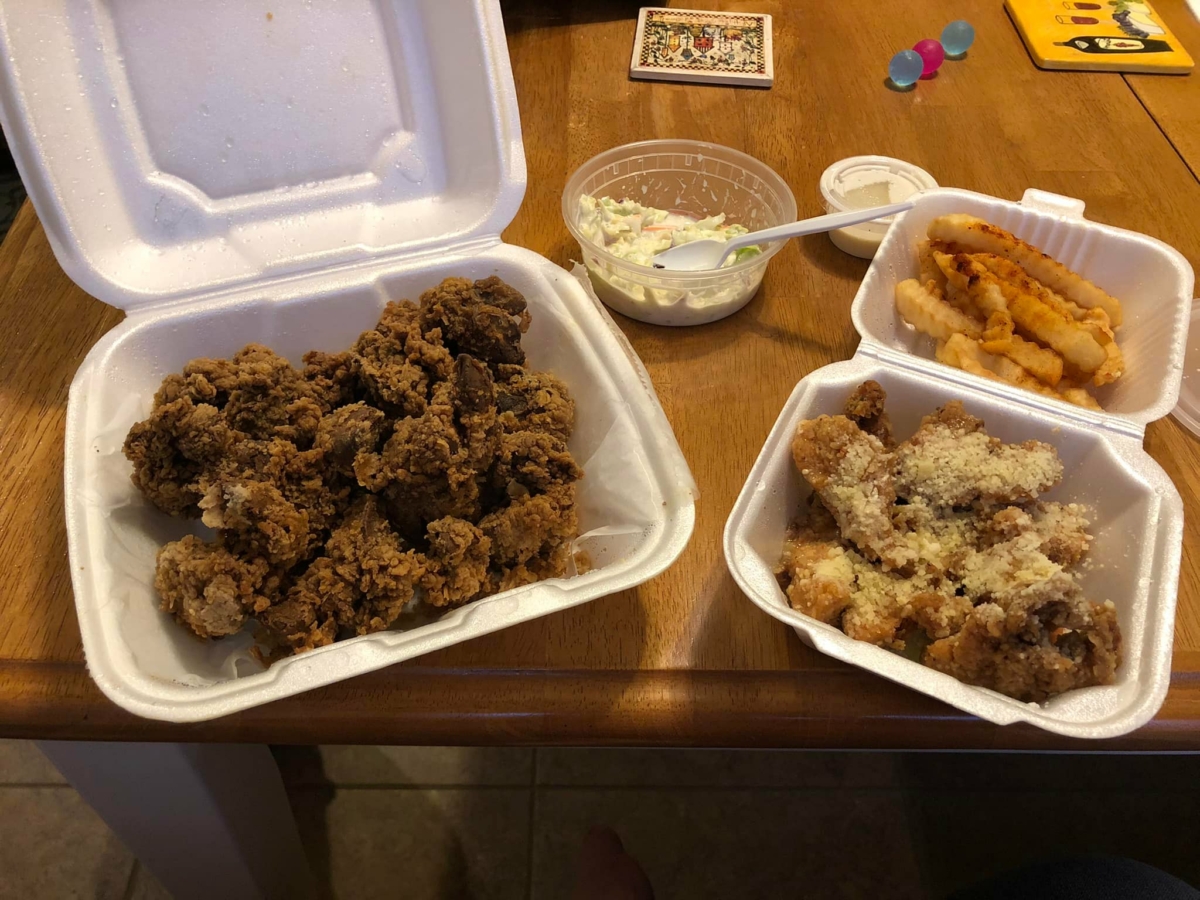 Great food doesn't have to be fancy, and this no-frills spot is here to prove that.
Ghot Wings serves chicken wings and other delicious eats out of a window-run to-go eatery.
Get their delicious and meaty pieces of chicken served in sizes ranging from 6 to 30.
They might have the largest selection of sauces in Music City to coat the tasty morsels.
Spicy, sweet, savory, and smoky, there's a flavor for nearly every taste. There are even dry rubs for those who prefer sauce-less wings.
Make this you're new go-to for weeknight bites; it's quick and easy without cutting corners on quality and flavor.
Location: 2617 Gallatin Pike, Nashville, TN 37216
Edley's Bar-b-Que
BBQ in Nashville is a pretty common find, but delicious smoked wings aren't always available.
Edley's Bar-B-Que focuses its time on slow-smoking meats, but the ones you won't want to miss are the crispy chicken wings.
These pieces of chicken are prepared in two steps to create their addicting flavor. First, they're slow-smoked, like with all their other meats.
From there, the wings are flash-fried to ensure crispy skin. After a bite, the juicy and succulent meat will fall right off the bone.
You can order 8, 12, or 20 wings to indulge in and 5 different sauces to toss them in.
Classic spicy buffalo is always a winner, or pick their unique white BBQ, even a sweet and spicy dry rub. You really can't go wrong with this Nashville staple.
Location: 2706 12th Ave S, Nashville, TN 37204
Germantown Pub
Here you'll find a casual neighborhood tavern with comfort food classics like chicken wings.
Germantown Pub serves up meaty, succulent chicken wings coated in a sauce of your choice.
In this laid-back watering hole, you can pick from 6 wings for a small portion or 12 if you're hungry. Classic Nashville Hot is popular, as it is everywhere in Music City.
Other flavors include; lemon pepper, BBQ, garlic parm, and their famous Germantown.
This savory, smoky OG sauce will quickly become a new favorite and your go-to for future wing cravings.
Location: 708 Monroe St, Nashville, TN 37208
Hattie B's
This Nashville hot chicken chain is popular for a good reason.
With multiple locations around the city, Hattie B's allows you to indulge in classic southern bone-in chicken wings.
These juicy and delicious wings come in a serving size of 3. Or a platter with as many as you'd like. The whole wings are served simply; you can choose hot or not.
For dipping, you can choose from the ranch, blue cheese, or honey mustard.
They're one of Music City's favorites for a good reason, and after just one visit, you'll understand why.
Location: 5069 Broadway Suite A-103, Nashville, TN 37203
McDougal's Chicken Fingers + Wings
Chicken is king at this Nashville eatery. McDougal's Chicken Fingers + Wings spent years perfecting their recipes to bring a funky, friendly, and personality-filled chicken joint.
While the hand-breaded chicken fingers are a popular menu item, you won't want to miss out on the chicken wings.
Get 6, 12, 18, or even 24 of their meaty wings fried and then tossed in your choice of sauce.
There are options for every taste, from a zesty citrus and chipotle combination to sweet heat and even classic buffalo.
No matter what flavor you choose, you'll soon be back for more.
Location: 2115 Belcourt Ave, Nashville, TN 37212
Pegleg Porker Bbq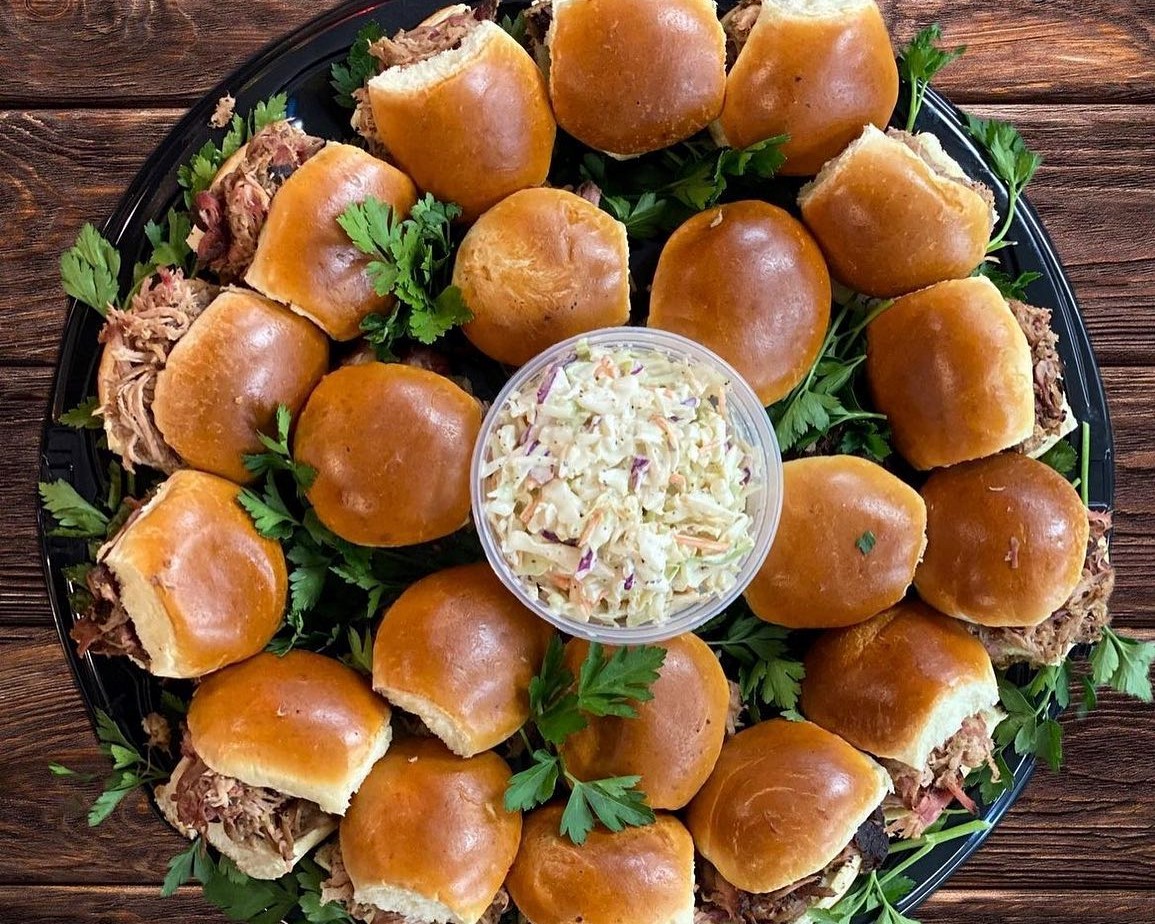 As the name implies, this famous BBQ joint focuses mostly on pork, but their chicken wings are a welcome exception.
Pegleg Porker BBQ is a family-owned and operated eatery with a soulful interior and well known for its meats which are smoked fresh daily.
Your experience is important to them, so they dedicate their time to you from the first minute you set foot in the door.
They keep the chicken wings simple and flavorful, with three sauce options; BBQ, dry rub, and classic hot. But the 4 whole wings served are so good they almost don't even need a coating.
Give them a try for yourself, and you won't regret the experience.
Location: 903 Gleaves St, Nashville, TN 37203
Rocky's Wing Shack
You can't miss this bright red shack, well known for its unique flavors.
Rocky's Wing Shack makes their wing sauces from scratch with out-of-the-box flavor combinations you won't find anywhere else.
They create soul food and classic comfort favorites and serve them in new ways.
This wing stop is famous for two things; the 100-party pack of wings and their homemade Strawberry Kick sauce.
This sauce contains a never-before-seen combination of real high-quality strawberries and their own spice blend.
Sweet, heat, and totally one of a kind. Be sure you don't miss out on this wing staple.
Location: 1601 9th Ave N, Nashville, TN 37208
Smokin Thighs
At this Nashville eatery, you'll find yourself in a warehouse-like setting; you can indulge in smoked chicken, including wings.
Smokin Thighs focuses on creating delicious Applewood smoked chicken smothered in your choice of various sauces.
This backyard bar offers up a plate of bone-in chicken wings or a whole leg quarter on the bone.
They recommend specific seasonings for each, but you'll have your choice of 7 different sauces. BBQ with four unique flavorings, a dry rub, thai hot chili, or classic Nashville hot.
Customize these wings and dive into some of the best chicken Music City has to offer.
Location: 611 Wedgewood Ave, Nashville, TN 37203
Stock + Barrel
While they're well known for being a delicious burger joint, the chicken wings should be the star of the show.
Stock + Barrel brings together a classic neighborhood pub feel with southern hospitality.
They keep the recipe simple with only one sauce type and are served classically with blue cheese or ranch.
These monstrous chicken wings are roasted and then char-grilled for a crisp, flavorful skin and juicy meat that falls off the bone.
Their house hot sauce brings the perfect balance of spicy heat and coats the wings for bold flavor in every bite.
Don't miss out on some of the best wings around found at this local eatery.
Location: 901 Gleaves St, Nashville, TN 37203
Wing Basket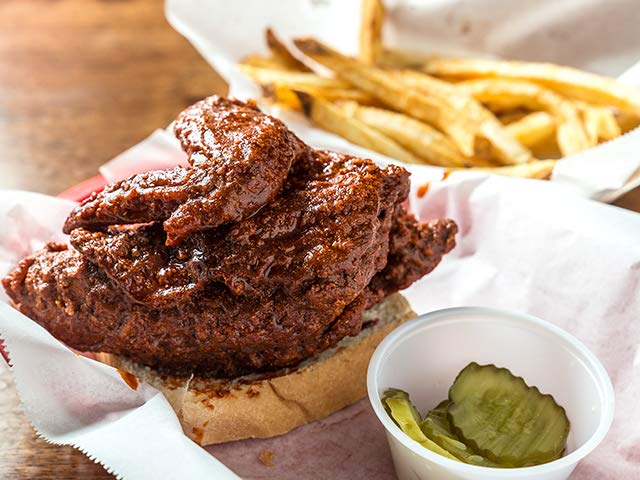 This might just be the best wing spot in Nashville. With 12 sauce flavors and big meaty fried wings, Wing Basket will quickly turn anyone into a wing enthusiast.
Their goal is to consistently serve the best wings with the best sauces, and they don't disappoint.
You won't find tiny pieces of chicken here; only large succulent wings are chosen for their baskets.
They use only the freshest and highest quality ingredients, with everything made in-house.
Here you'll find sauces starting with sweet and tangy honey mustard to burning hot "TNT" for only those who can handle a major afterburn.
Location: 5753 Nolensville Pike, Nashville, TN 37211
Final Thoughts
Juicy and succulent wings dripping in sauce are one meal that can't be beat. Good thing Music City has you covered for all your chicken wing cravings.