Even though Nashville isn't quite New York or Chicago regarding pizza, the options will impress you.
Here are the top 10 best places to grab a slice in Music City.
The Best Pizza in Nashville
Bella Napoli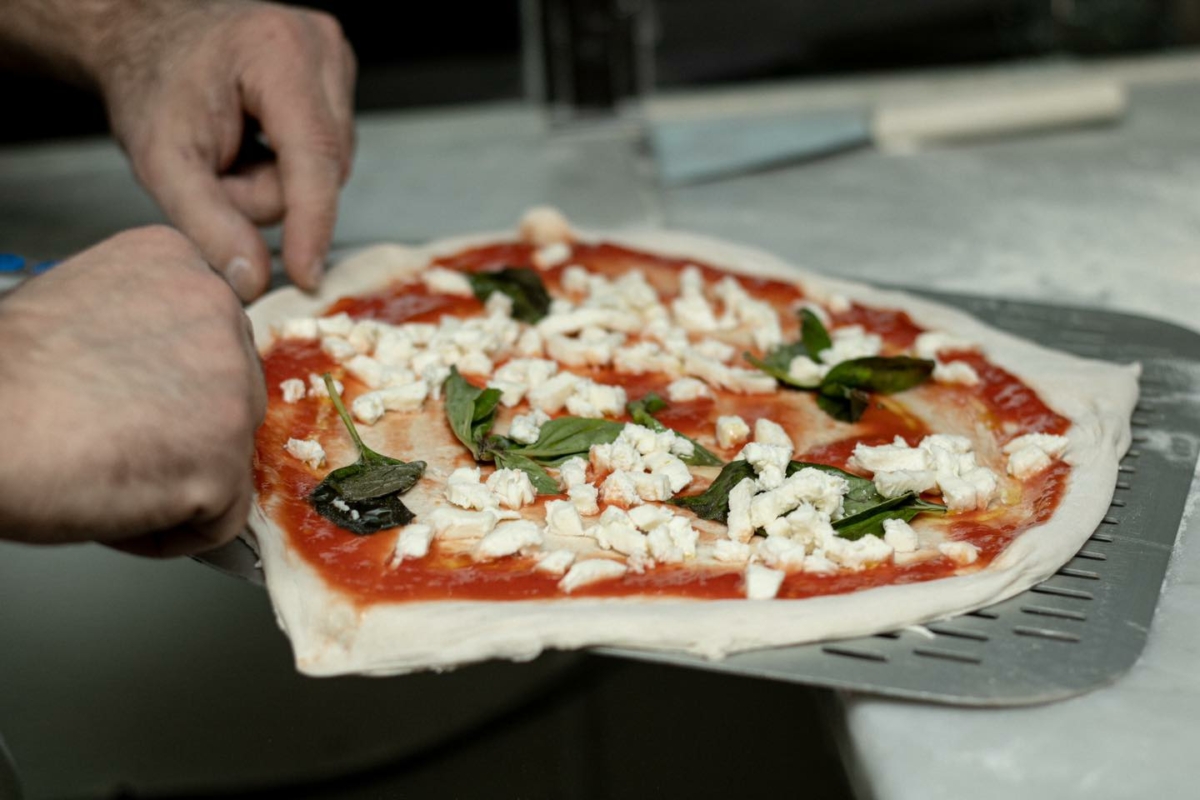 Bella Napoli has you covered with authentic Sicilian-style pies and other handcrafted Italian cuisines.
The trifecta for any pizza joint is exposed brick, an outdoor courtyard, and wood-fired pizza.
What makes their dishes stand out is their dedication to using only the freshest ingredients and crafting them to let them shine. Choose from a classic like the Margherita.
Or try something a little more unique with the Parma, which is topped with prosciutto and arugula.
There are also hearty pasta, a succulent chicken Parmigiano, salads, and desserts. Here you'll find an authentic taste of Italy without leaving Tennessee.
Location: 1200 Villa Pl #206, Nashville, TN 37212
Desano Pizza
DeSano Pizza creates a laid-back environment to enjoy a slice or a few of thin-crust pizzas.
But they take their handcrafted pies very seriously, following strict guidelines from the Associazione Verace Pizza Napoletana to create authentic Neapolitan pizza.
They've set out to preserve the century-old craft of pizza making by utilizing wood-fired ovens for the perfect taste and texture.
All over the menu, you'll find authentic flavors and recipes which allow you to taste the best of Italy.
And we're not kidding. For the best quality, they import their ingredients right from the European country.
There are classic toppings, specialty pies, calzones, pizza Carnevale, and desserts. Allow them to reintroduce you to the classic pizza; you won't regret it.
Location: 115 16th St Ave S, Nashville, TN 37203
Emmy Squared: The Gulch
While this isn't their only location around the city, Emmy Squared: The Gulch is located in the heart of Nashville.
Here you'll find the highest quality ingredients brought together to create famous Detroit-style pizzas.
Their unique take on American comfort food includes burgers, salads, and other sandwiches on top of their unforgettable pizzas.
All are made with unconditional love; their flavors stand out above the rest. You can enjoy a meal in a contemporary dining room or up on their rooftop patio.
You can even order any of their pizzas with a gluten-free crust. And the toppings options range from familiar to eccentric, all delicious.
This square pizza will soon win over your heart.
Location: 404 12th Ave S, Nashville, TN 37203
Five Points Pizza
Whether in East or West Nashville, you'll have an opportunity to try Five Points Pizza.
Here you'll find a casual spot with NY-style pizza available by the slice, complemented by cold craft beer on tap.
The dough is made in-house daily, hand-tossed, and covered in homemade plum tomato sauce.
These large slices are foldable, just like the classic NY pies should be. And the topping combinations you can select from range from traditional to creative without being too over the top.
You can't go wrong with slices like these.
Location: 1012 Woodland St, Nashville, TN 37206
Mafiaoza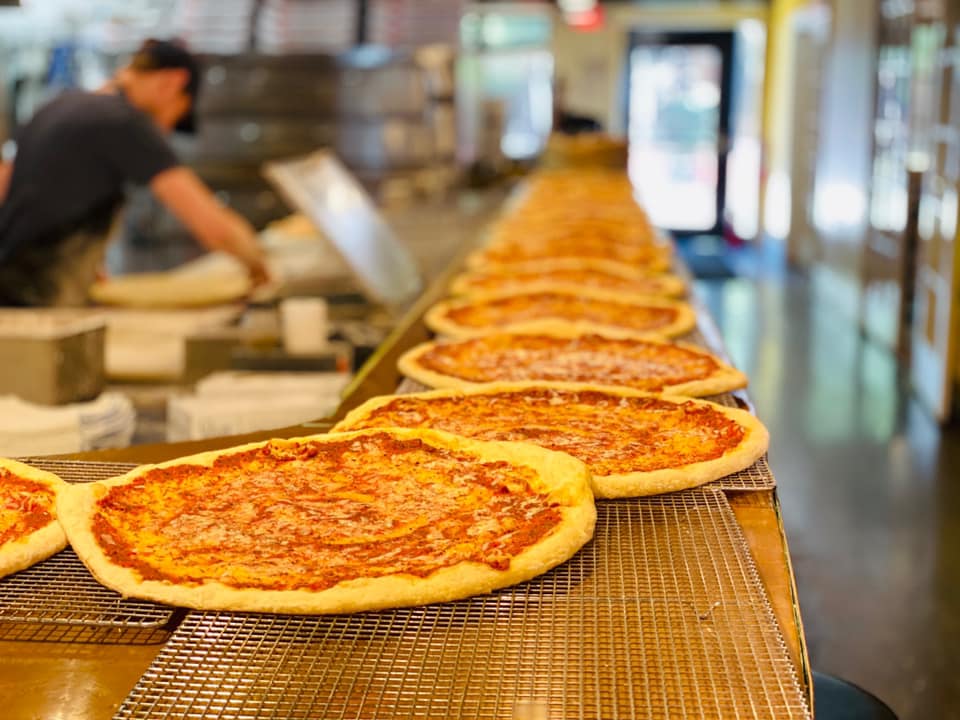 MAFIAoZA is a Mafia-themed joint that will take you back to a different time with its delicious authentic flavors.
Here you'll find a busy neighborhood pizzeria and bar where you can enjoy fresh pizzas and other Italian cuisines.
They pride themselves on bringing authentic 1920's Italian dishes and service to the Nashville area.
The menu is filled with classic pizzeria options such as hearty pizzas and pasta, salads, and desserts.
Select from their specialty items which include high-quality ingredients crafted into unforgettable combinations of pizza toppings and pasta dishes.
Or build your own pizza or pasta with your sauce and ingredient creation.
Location: 2400 12th Ave S, Nashville, TN 37204
Nicky's Coal Fired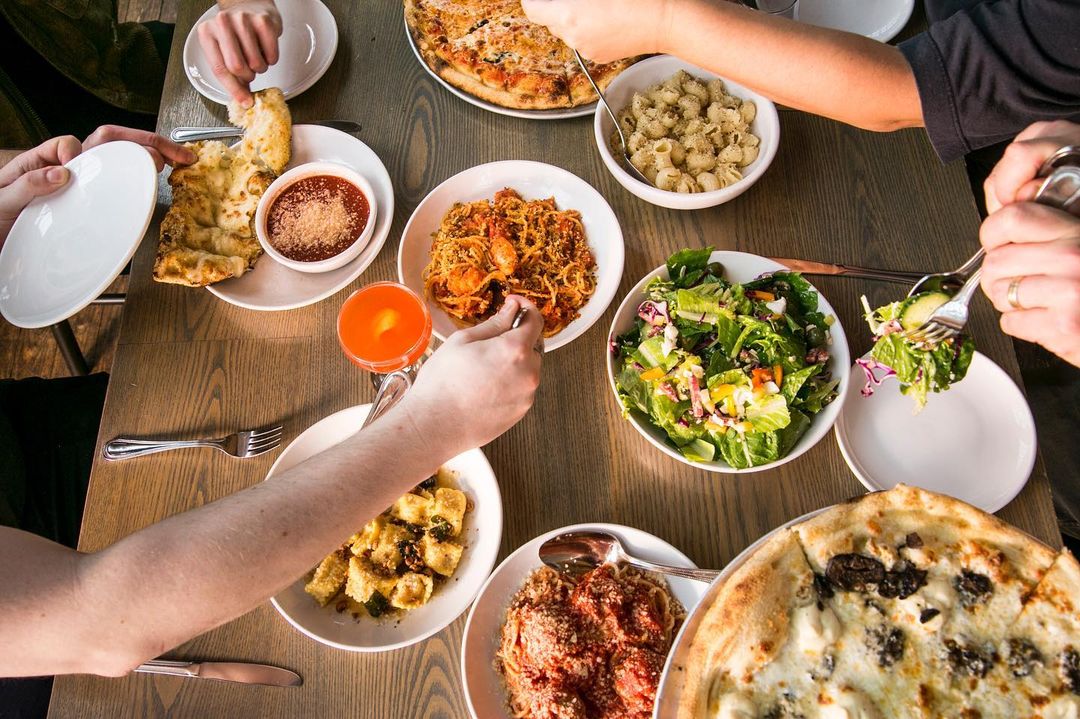 Nicky's Coal Fired serves creative and innovative pizzas, pasta, and handcrafted cocktails.
You'll find a casual environment with counter service where you can indulge in all your authentic Italian cravings.
The pizzas have a distinct character because of the unique coal-burning fire ovens they use. It's a flavor that will keep you coming back for slice after slice.
Pick from red or white sauce options, and build your own or nosh on the specialty pies they've created. Either way, your first pie at Nicky's won't be your last.
Location: 5026 Centennial Blvd, Nashville, TN 37209
Pastaria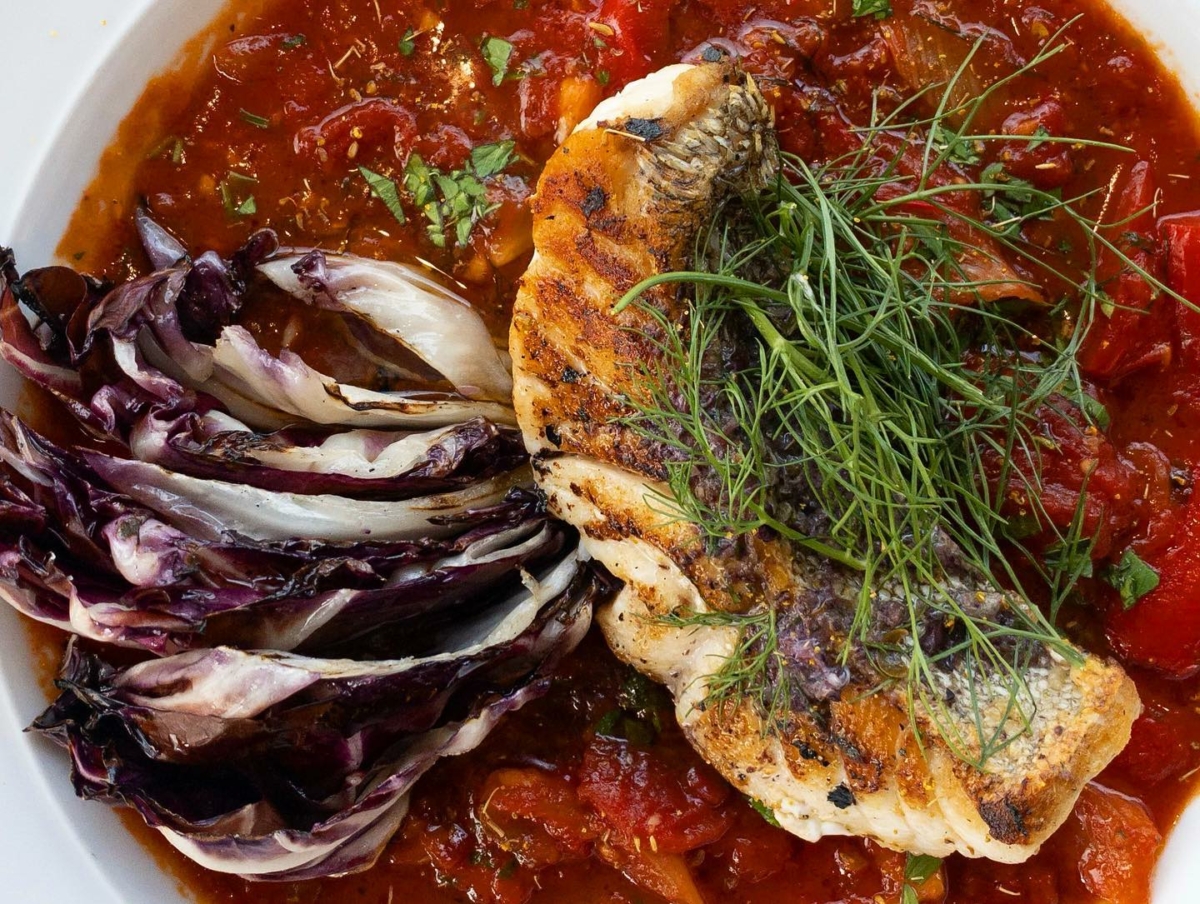 Pastaria creates a unique experience with its contemporary eatery that features an open kitchen.
Watch the chefs create unforgettable pizzas and dishes right in front of your eyes utilizing fresh ingredients and a wood-fired oven.
Their goal is to create a new and modern approach to classic Italian cuisine.
A couple of classic pies make a list. But they also have intriguing options like a pizza topped with hot honey or another with jalapeno and pineapple.
For a fresh take on one of America's favorites, look no further than Pastaria.
Location: 8 City Blvd, Nashville, TN 37209
Pizza Perfect
Their claim of "look good, taste better" is true. They're crafting handmade pizzas baked fresh every day for only the best quality.
For starters, Pizza Perfect offer 5 different sizes and crust types, which sets them apart from some competitors.
Once you see the list of specialty pies, you'll be blown away. Fun and unique toppings include bacon cheeseburger, habanero sauce, and even bbq sauce.
Their name describes the pies; after just one slice, we're sure you'll be ordering from them more often.
Location: 1602 21st Ave S, Nashville, TN 37212
Slim & Husky's Pizza Beeria
This local neighborhood spot focuses on art, music, and of course, pizza pies. But here, you won't find just any pizza.
Slim & Husky's Pizza Beeria combines two intriguing cultures, classic Italian pizzas, and hip-hop.
They create artisan recipes, all of which have been named after popular hip-hop and R&B songs from throughout the decades.
If you can't decide on one of these handcrafted recipes, build your own with any of their toppings.
And try to save room for dessert, as they offer cinnamon rolls and other finger-licking treats. This is one pizza you can't miss out on.
Location: 911 Buchanan St, Nashville, TN 37208
Smith & Lentz Brewing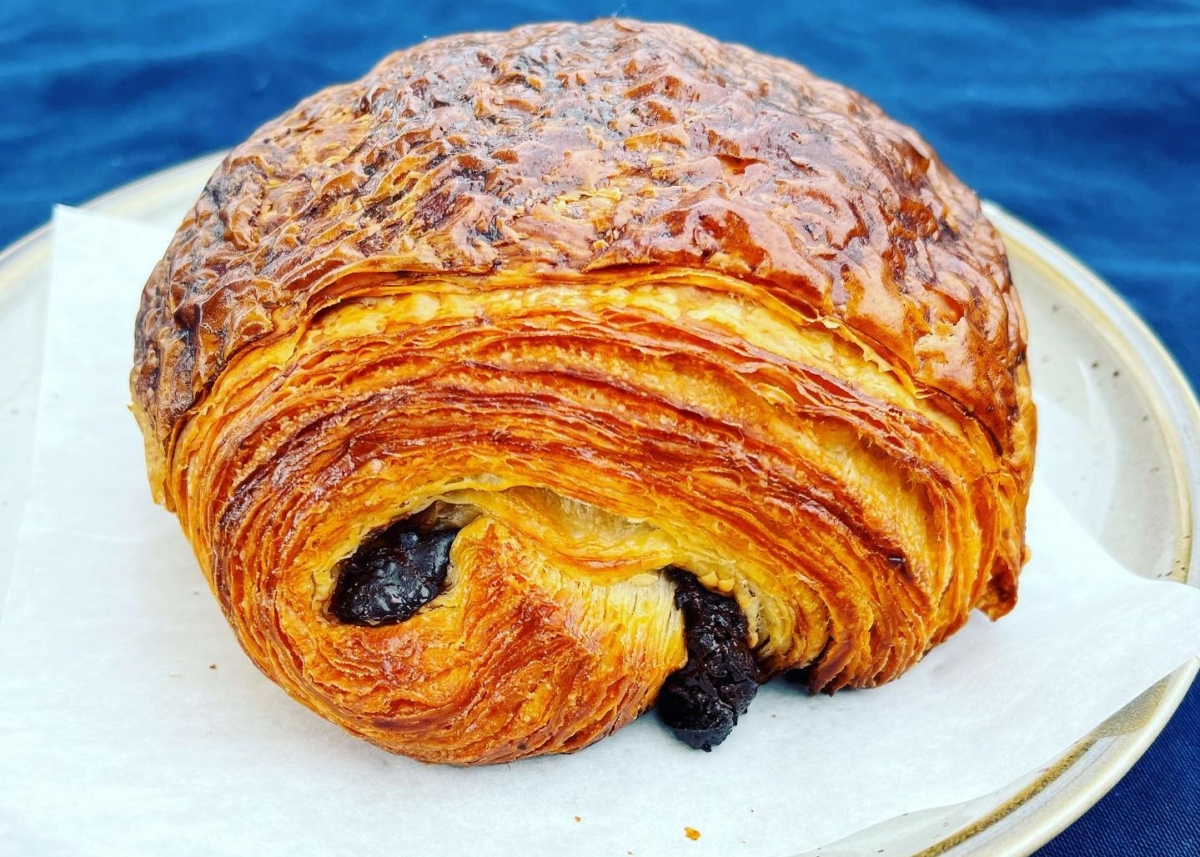 Beer and pizza a classic combination that can't be beaten. Located in East Nashville, Smith & Lentz Brewing serves more than just beer with its delicious pizza creations.
Their boxes stand out with their mascot, Sil, the naked cat, wearing a slice of za and toting a third eye.
But the flavors will also stand out. Their specialty pies offer unique options like sausage and kale, squash pie, or even a white pie.
And, of course, you can build your own. Or add a concoction of red chili flake, garlic butter, oregano, and parm to any pie.
While most come for the beer, you'll likely stay for the pizza at this fantastic eatery.
Location: 903 Main St, Nashville, TN 37206
Final Thoughts
While Nashville is known for its music and nightlife, its pizza scene makes its mark. Any of these great places will be a great choice when you want to grab a slice.