Steamy beef broth, thinly sliced beef, and fresh crunchy veggies are all combined to create the popular traditional Vietnamese meal.
Pho is a popular dish all across the nation, and lucky for you, Nashville has plenty of places where you can have authentic and delicious bowls.
The Best Pho in Nashville
Far East Nashville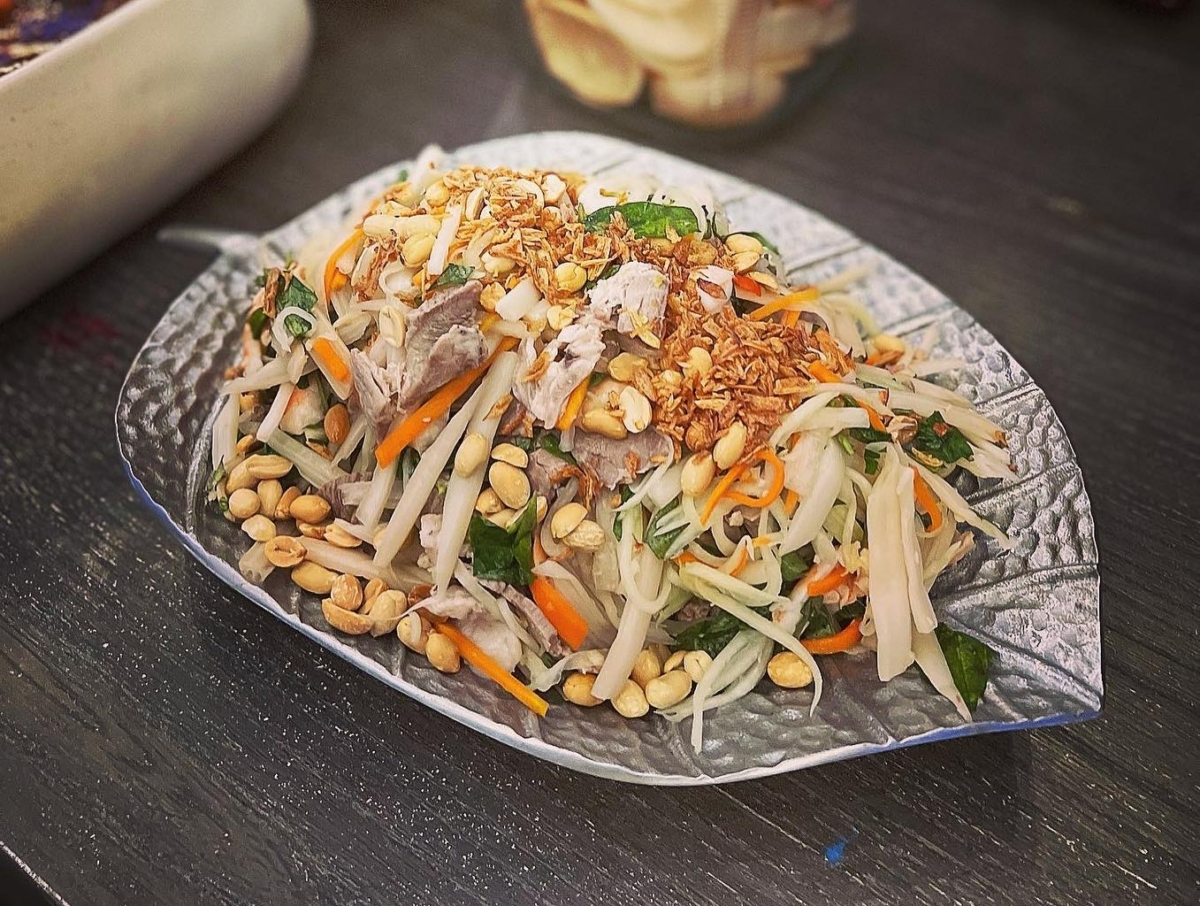 Near the famous Ryman Auditorium, you'll find this local eatery focused on preparing authentic Vietnamese meals.
Far East Nashville has been serving the area since 2009 and creating delicious inspired meals, including traditional beef pho.
In order to prepare these delicious meals, they focus on using only the freshest and highest quality ingredients they can find.
They have options other than the classic beef, including chicken, ribeye, shrimp, vegan, and even a new creative take on "burger" pho.
No matter what bowl you end up with, your first trip to Far East Nashville most definitely won't be your last.
Location: 2922 1008 Fatherland St, Nashville, TN 37206
Han's Banh Mi & Pho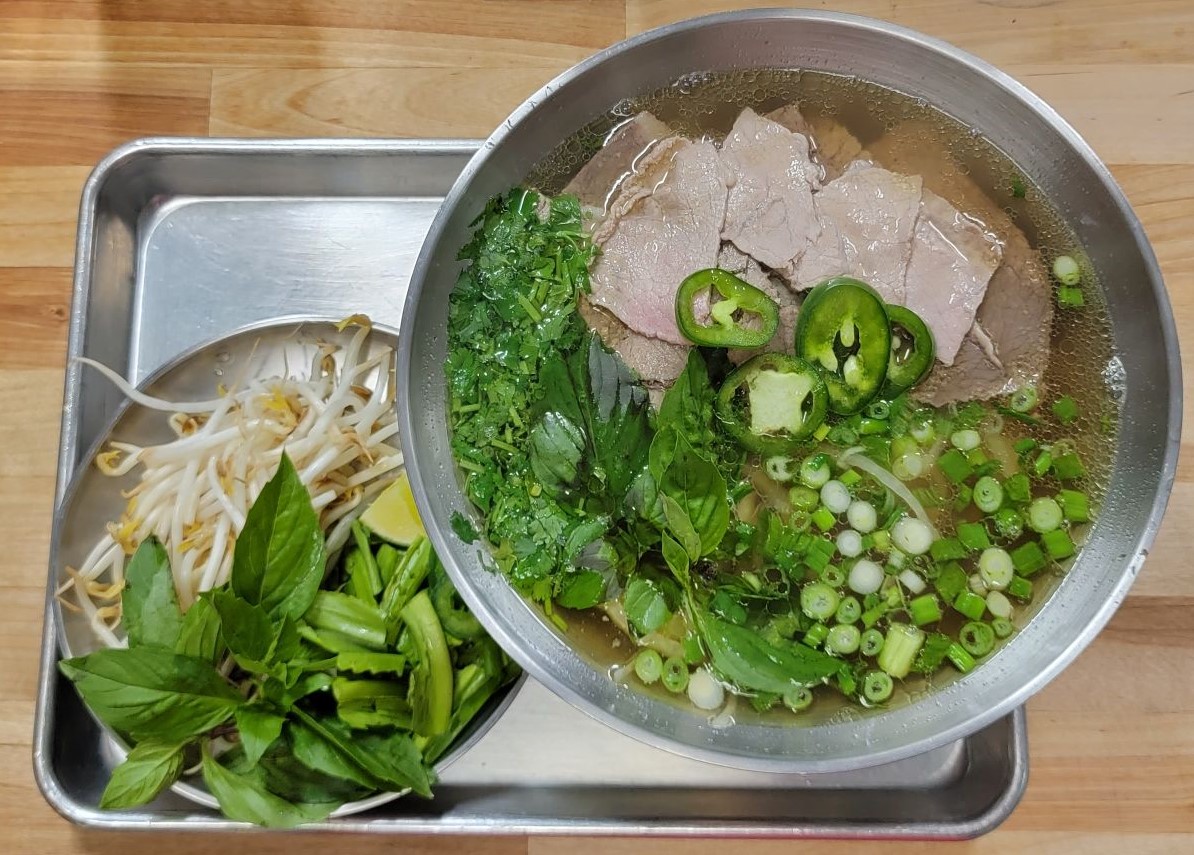 Plenty of fantastic restaurants can be found in shopping centers, and this one is no different.
Han's Banh Mi & Pho is a busy little Vietnamese restaurant serving authentic meals.
Staple items on the menu include their made-from-scratch sandwiches, bubble teas, and noodle dishes.
They don't cut any corners, using only the freshest and highest-quality ingredients to prepare each plate.
The most popular of their dishes is the classic Pho served with traditional veggies and rare beef, steaming hot and ready to be enjoyed.
Han's Banh Mi & Pho is one strip mall spot you won't want to skip over.
Location: 5694 Nolensville Pike, Nashville, TN 37211
Hoang Tofu
Here you'll find a tiny counter-service spot with simple interior decor and almost unbelievable delicious food.
Hoang Tofu, a local eatery focused on serving authentic Vietnamese cuisine is tucked inside a plaza of stores and restaurants.
This is a family owned and run deli and bakery, creating everything you see on their menu from scratch in the small kitchen.
While they serve mostly tofu, as the name implies, you will also find classic Pho on the menu.
Just like everything else, the beef and noodle bowl is made from scratch with deep crave-able flavors. Hoang Tofu is a hidden gem you won't want to miss in your search for great Pho.
Location: 6333 Charlotte Pike, Nashville, TN 37209
Kien Giang Restaurant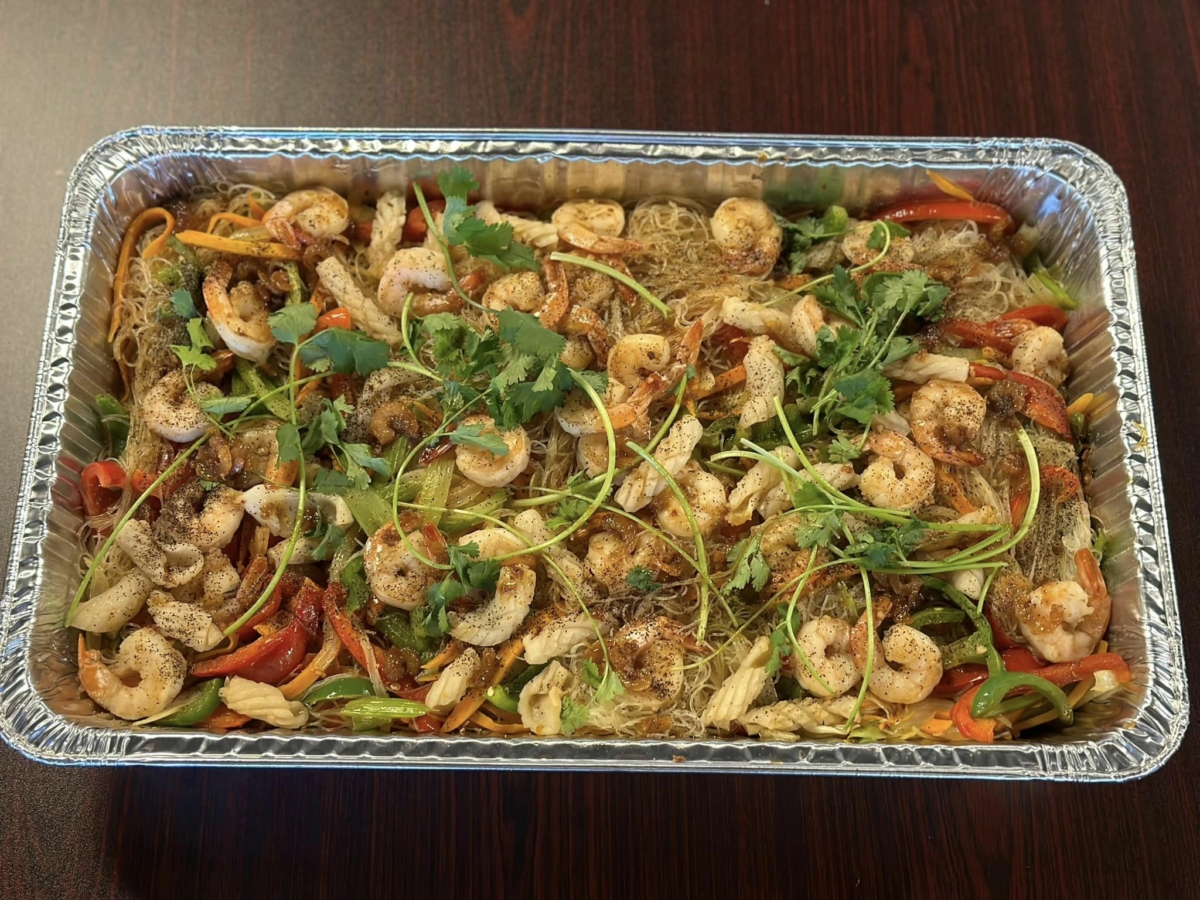 This is one restaurant that's no newbie to the scene, it first opened its doors in 1994.
Kien Giang Restaurant is a truly authentic experience for you to indulge in all your favorite Vietnamese-inspired dishes.
The menu is filled with many delectable bites like spring rolls and banh mi sandwiches, but the Pho cannot be beaten.
The beef broth and noodle soup are carefully crafted with family recipes and traditional methods.
They also have chicken, seafood, and vegetarian options to fit all dietary needs.
Kien Giang Restaurant has been a popular spot for nearly 30 years, and after one order of the crave-able Pho, you'll understand why.
Location: 5825 Charlotte Pike 37209
Love Peace & Pho
Here you'll find a beautifully modern and minimalist-inspired dining room where you'll enjoy tasty Vietnamese-inspired dishes.
Love Peace & Pho is no stranger to recognition, as they've been previously noted by local publications for the delicious cuisine they prepare.
The Pho takes up an entire page of the menu with renditions from both the North and South of Vietnam.
The classic beef broth options are what people gravitate towards, and each is served with your choice of protein, slow-cooked 2-day broth, and fresh chopped traditional vegetables.
These hot and steamy noodle bowls from Love Peace & Pho are exactly the meal you've been looking for.
Location: 2112 8th Ave S, Nashville, TN 37204
Pho Ann Nashville
You'll find this hidden gem of a spot in an almost forgettable strip mall among chain restaurants.
Pho Ann Nashville focuses on creating authentic Vietnamese dishes with high-quality ingredients to bring the tastes of Vietnam right to Nashville.
While there are other items on the menu, the Pho truly steals the show. You'll have the option of red or white meat-based bowls, with 11 total flavor combinations.
There's even an out-of-the-box BBQ option that pays homage to Tennessee. Pho Ann Nashville is one local eatery you won't want to miss.
Location: 4516 Harding Pike, Nashville, TN 37205
Pho T & N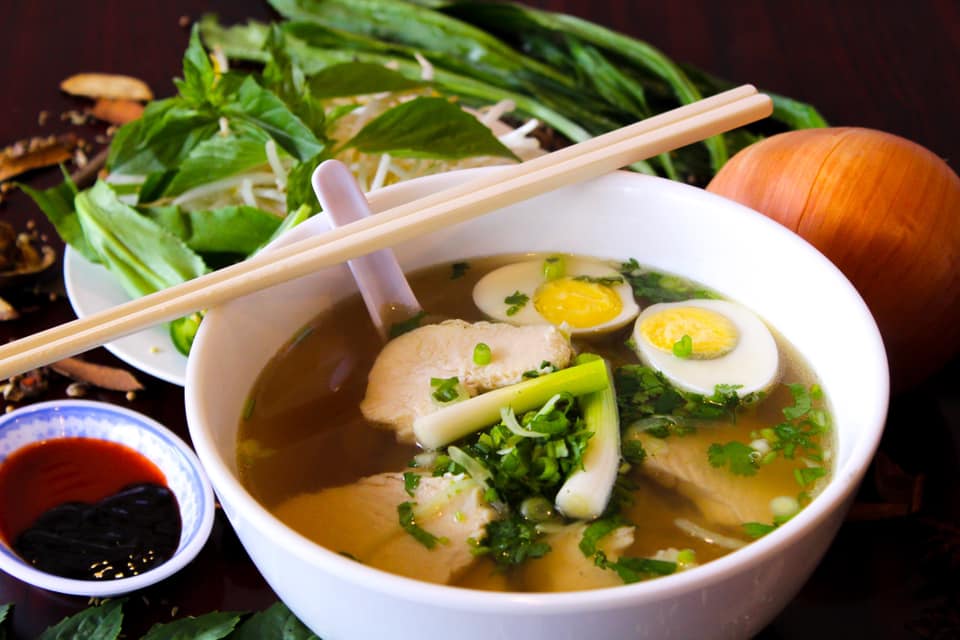 In a sleek building, you'll find this Vietnamese-focused restaurant aiming to bring you a menu of craveable dishes.
Pho T & N prides itself on creative dishes that honor traditional recipes and strive to only use the best ingredients in each.
The menu is filled with authentic bites, from spring rolls to rice plates, but the Pho is unrivaled.
Their specialty includes rare steak, beef brisket, and beef meatballs, all in a warm spiced broth and served with traditional veggies.
You can even change the protein to chicken, but the same delicious qualities are found throughout. Pho T & N might just become your new go-to for everything pho.
Location: 3745 Annex Ave, Nashville, TN 37209
Vinh-long
Named after a populated city in Vietnam, this local eatery serves fresh and authentic bites.
Vinh-Long is an unsuspecting strip-mall restaurant that will surprise you with just how delicious their bowls of Pho are.
The interior is kept plain and simple, with a small dining area for you to enjoy the food. It's also important to note they only accept cash, so you'll want to have some handy.
The hot bowls of Pho are prepared authentically from family recipes with only the freshest produce available and in multiple sizes to stave off any hunger pains.
Don't let the strip mall exterior turn you away from Vinh-Long and some of the best Pho you'll have in Nashville.
Location: 1061 Murfreesboro Pike, Nashville, TN 37217
VN Pho + Deli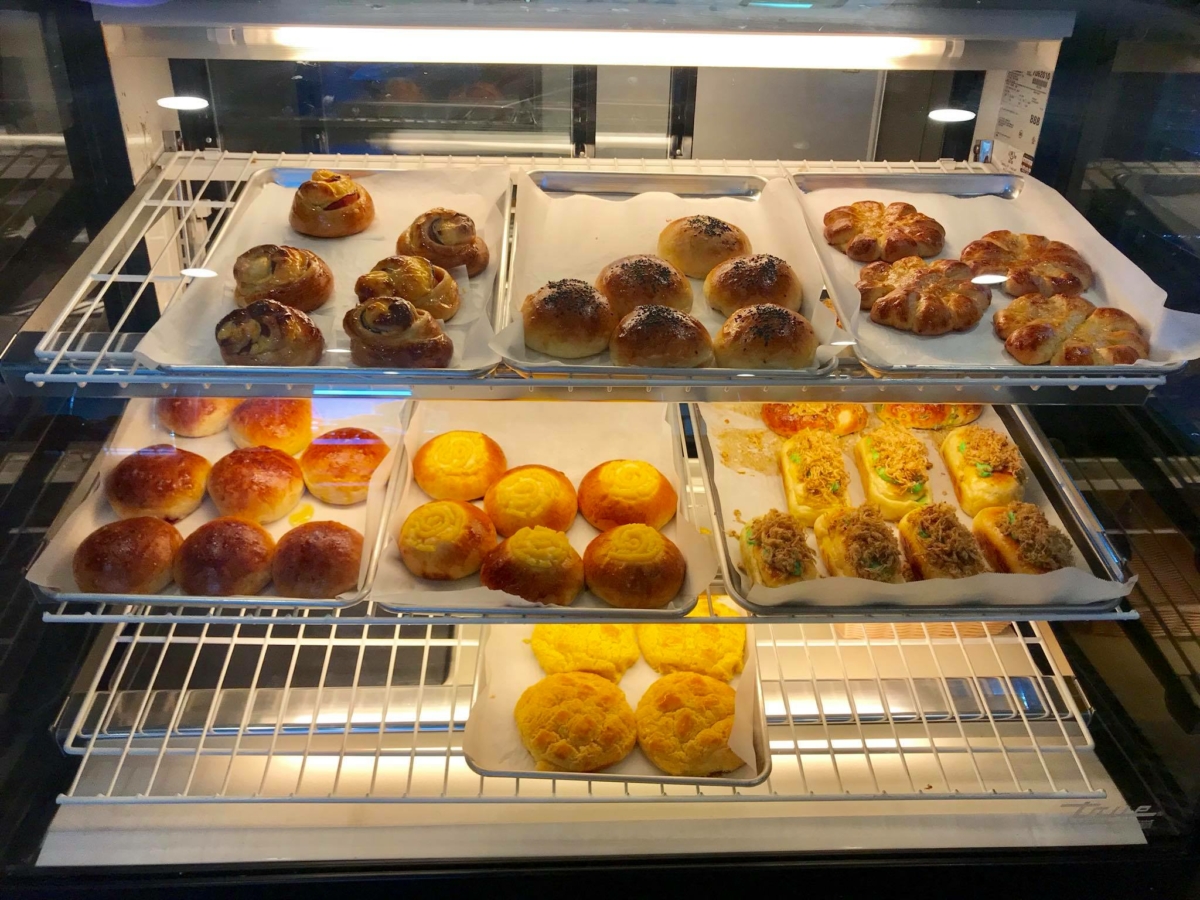 Simple is the name of the game at this casual family-run eatery.
VN Pho + Deli may not catch your attention at first, but the authentic Pho they prepare will blow you away.
In a simple dining room, you can enjoy their take on the fresh and hot popular noodle dish. Keep in mind they're cash only, so you'll want to stop at the ATM before dropping by.
The flavors and service you'll receive at VN Pho + Deli are unmatched, with fresh and high-quality ingredients in each dish.
The only downside of this spot is there might be a wait because of how popular the food is, so get there early. Plan your next pho-based meal at this local Vietnamese shop.
Location: 5906 Charlotte Pike, Nashville, TN 37209
Vuis Vietnamese Kitchen
Here is a casual spot for dining on authentic Vietnamese bowls either indoors or out.
Vuis Vietnamese Kitchen focuses on bringing a classic Asian dish to Nashville to kick all your pho cravings.
While the tasty noodle dish can be found on the menu among various rolls, banh mi sandwiches, and other traditional Vietnamese bites, the Pho really steals the show.
They keep it simple with two options; vegan or original. The classic is a 12-hour bone broth with your choice of protein, rice noodles, and the typical veggies found in the dish.
The vegan option is similar, with instead a vegan mushroom broth and tofu. Either way, Vuis Kitchen won't disappoint when it comes to a hot bowl of Pho.
Location: 2832 Bransford Ave, Nashville, TN 37204
Final Thoughts
It's clear to see delicious Pho can be found all across Nashville as long as you know where to look.