There's no better addition to your celebration or big day than arriving in style and having a good time on the trip.
A party bus is a way to elevate your next party even more while you sip around Nashville in a rolling club.
The Best Party Bus in Nashville
The Big Drag Bus
Suppose your dream is to travel around Nashville while partying with drag queens, then look no further than this party bus.
The Big Drag Bus is a combination drag show and party bus, which they call Nashville's place to party.
This tour of the city is hosted by drag queens who will fill your trip with icebreakers, performances, singing, and dancing all across Music City.
There's a professional sound system, built-in coolers with ice, light shows, and big vibrant energy. The Big Drag Bus is exactly the addition you need to your next celebration.
Location: 1517 Church St, Nashville, TN 37203
Hell on Wheels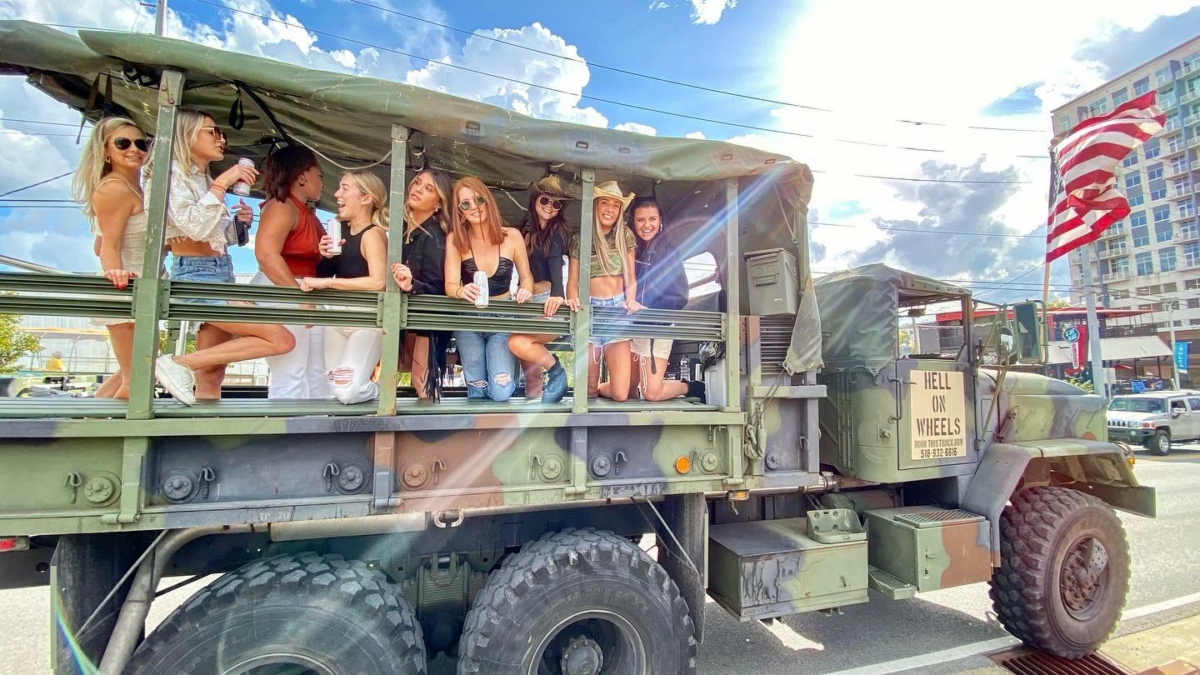 Ride around Nashville in a completely new way with this top-rated open-air party bus.
Not only is Hell On Wheels unique with an open-air vehicle, but you're also traveling down Broadway in refurbished military-grade vehicles in a unique and unforgettable experience.
Not only are your party needs fulfilled with this tour of Music City, but part of the proceeds go back to Veterans so you can feel good while having fun.
Hell On Wheels has the biggest and baddest-looking tour buses in the city with all the accommodations you need for the perfect party.
Location: 701 Division St, Nashville, TN 37203
Honkey Tonk Party Express
This refurbished open-air school bus gives a new name to the party bus.
Honkey Tonk Party Express is the perfect experience to add to your next occasion, especially bachelor and bachelorette parties.
They have multiple packages available, so the accommodations are perfect for whatever event you're throwing, from corporate to birthdays and everything in between.
Hop on this big black bus and be thrown into a world of dancing, singing, and drinking with everything they have on board.
You'll spend a couple of hours traveling all across the city, making an entrance on every block. Honkey Tonk Party Express is the Nashville party bus of your dreams.
Location: 1343 Lewis St, Nashville, TN 37210
Music City Party Fire Engine
Here is another party bus that will stand out above the rest with a unique vehicle to transport you around.
Music City Party Fire Engine is just that, as a refurbished fire truck that's the perfect venue for celebrating your next occasion.
This is the one and only party bus of its kind in the city, so you can be sure you and your guests will have a one-of-a-kind experience.
This unique ride is decked out with surround sound and professional lighting, perfect for getting the party started.
No matter the occasion, you won't forget a ride on the Music City Party Fire Engine.
Location: Serves Nashville Area
Nashville Party Barge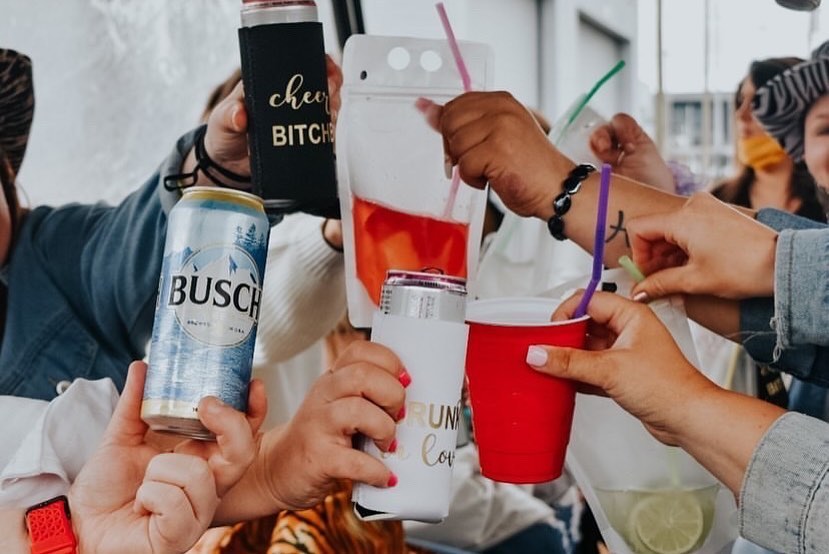 One of the best party buses in Music City, no matter the group or trip you're trying to take, this group will make all your party bus dreams come true.
Nashville Party Barge includes one of the most unique tours of Music City, with multiple bar stops and plenty of photo opportunities.
Drink, dance, and party with the best on this tour as you and your guests get to decide your fate.
They have multiple options, from wine-based to scavenger hunts and even a murals and mimosas trip.
No matter your group or what sights you'd like to see, Nashville Party Barge is the party bus for you.
Location: 400 Davidson St, Ste D, Nashville, TN 37213
Nashville Party Wagon
Experience Nashville in a truly southern way on the back of a tractor!
Nashville Party Wagon is exactly what it sounds like; with the #1 party tour in the city, you'll ride behind a tractor on a refurbished hay-bale wagon.
This is a BYOB tour making it easy for everyone to bring exactly what they'd like to drink. There's plenty of seating or standing room, so they can accommodate even with a bigger crowd.
Plus, they can tour year-round with heaters on board during the colder seasons. Nashville Party Wagon is a unique rolling party you'll want to experience.
Location: 533 Lafayette St, Nashville, TN 37203
The Nashville Tractor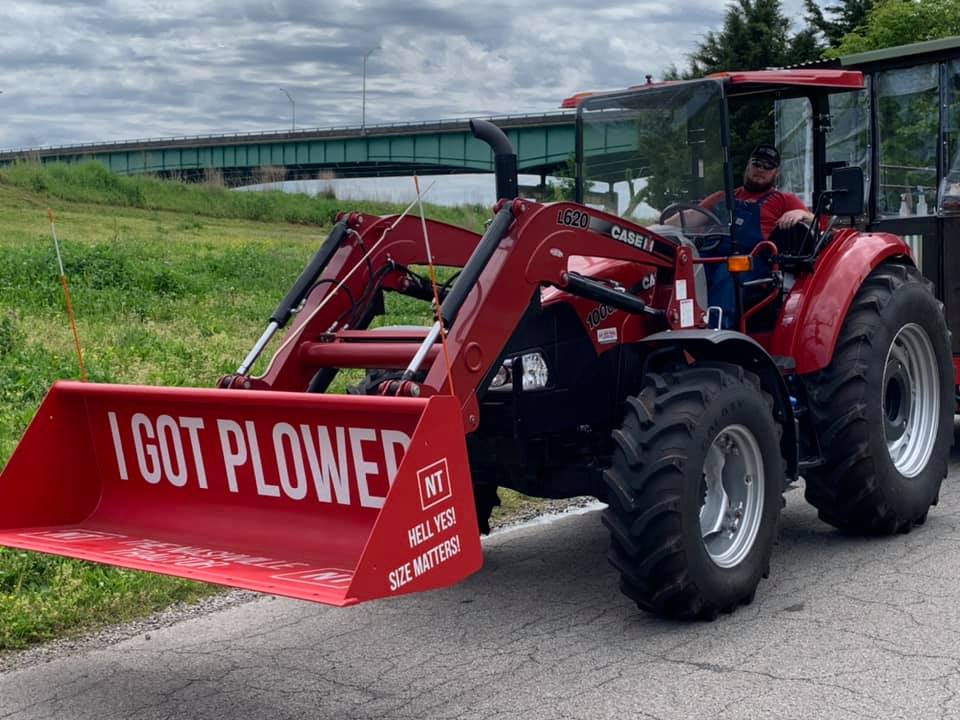 Similar to another on this list, you'll travel in southern style during this party trip on the back of a tractor. The Nashville Tractor is one of the wildest party tours in the city.
Instead of an open-air rebuild wagon, this is an enclosed-optional trailer with all the accommodations you need for a good time.
They have a wide variety of drinks and now offer the only climate-controlled party bus in the city.
This is the perfect rolling party for any occasion, from a birthday to a bachelorette celebration. The Nashville Tractor is one party bus you won't want to miss out on.
Location: 112 2nd Ave N, Nashville, TN 37201

Instead of touring the streets of Nashville on this party tour, travel the waterways.
Pontoon Saloon is Music City's only honkey tonk on the water, with a pontoon outfitted for good times only.
On this trip, expect a mix of booze, dancing, music, and singing as you and your group see a different side of the city while enjoying the open water.
You can bring your own alcohol, or they'll fill coolers for you with pre-picked options. This 50-foot barge is perfect for even larger group sizes.
Pontoon Saloon is a one-of-a-kind party bus in Nashville that you and your guests won't soon forget.
Location: 2 Victory Ave, Nashville, TN 37213
The Ultimate Party Bus
It's hard to miss this large refinished school bus painted like the American flag.
The Ultimate Party Bus is just that, with an open-air roof, loud music, and all the cold drinks you could want.
On the 2-hour tour, these buses will whisk you across Nashville while you and up to 30 of your friends spend the time dancing, singing, and just enjoying the day.
Bring your own booze on this trip, too, so you can drink exactly what you want, but don't worry, they supply coolers and cups, everything you'll need.
No matter the event or group, the event will be even more fun with a trip on The Ultimate Party Bus.
Location: 111 N 1st St, Nashville, TN 37213
Upstage Party Bus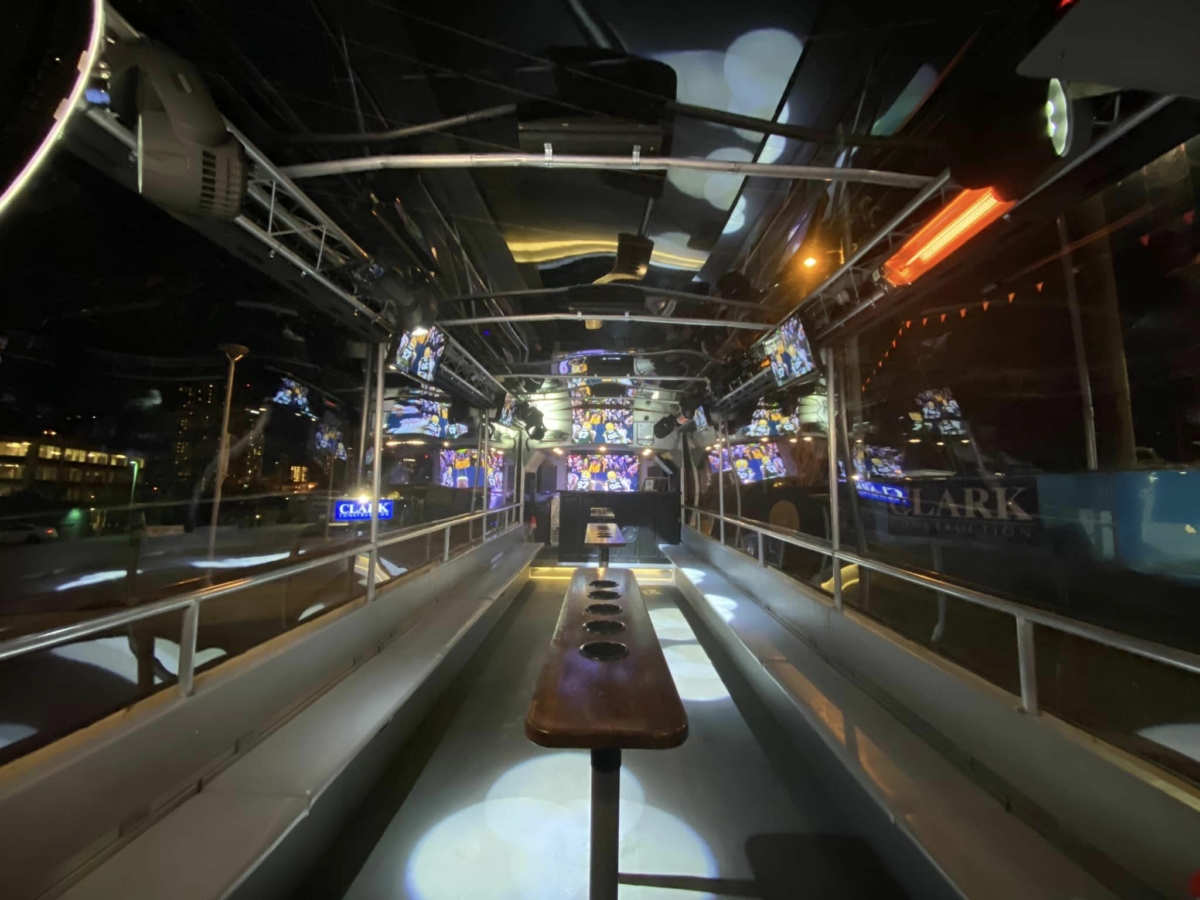 Enjoy a truly one-of-a-kind experience with the world's largest open coach bus.
Upstage Party Bus offers both shared and private tours of Nashville on this unique rolling stage.
You'll be surrounded by professional stage lighting and surround sound, so you can bring the concert with you.
Each tour is 2 hours and BYOB, so you can spend the trip drinking exactly what you want.
This massive bus includes some unique accommodations, like 8 flat-screen TVs, a full club DJ setup, concert lights, and a professionally trained DJ on staff. Upstage Party Bus will definitely upstage any other party bus around.
Location: 529 4th Ave S, Nashville, TN 37210
Final Thoughts
Tour Nashville in a fun and invigorating way with any of these unique Music City party buses, unlike any experience you'd previously had.