A night out doesn't always have to be elegant or expensive. Sometimes playing pool, throwing darts, and drinking a cold draft beer is all you need.
It's a good thing Nashville is filled with some of the best dive bars around.
The Best Dive Bars in Nashville
Bobby's Idle Hour Tavern
Dive bars don't always have to be a whirlwind experience.
Bobby's Idle Hour Tavern is a more laid-back watering hole well known as a spot for open jam nights for up-and-coming musicians.
From the giant plywood guitar outside, you'll know you're in the right spot for a good night.
Local artists grace the stage throughout the week, giving you a taste of what might be next in Nashville and highlighting the talent.
The drinks are cold; the crowds are always a good time and a low-key environment. Bobby's Idle Hour Tavern does the dive bar thing a little differently, and we think you'll like it.
Location: 9 Music Square S, Nashville, TN 37203
Corner Bar at Elliston Place
This is the spot when you're looking for a new place to catch the game, play some pool, and have typical dive bar fun.
Corner Bar At Elliston Place is well known for the bar-type grub, cheap and cold drinks, plus tons of games and events throughout the week.
No matter what you stop into the Corner Bar for, there's plenty of fun to be had. Pool tables, dart boards, they even host poker games on the weekend.
Plus, the drinks are always flowing, and the staff is beyond friendly.
When you need a night in the town away from the bustling downtown Nashville, check out the Corner Bar At Elliston Place.
Location: 2200 Elliston Place, Nashville, TN 37203
Fran's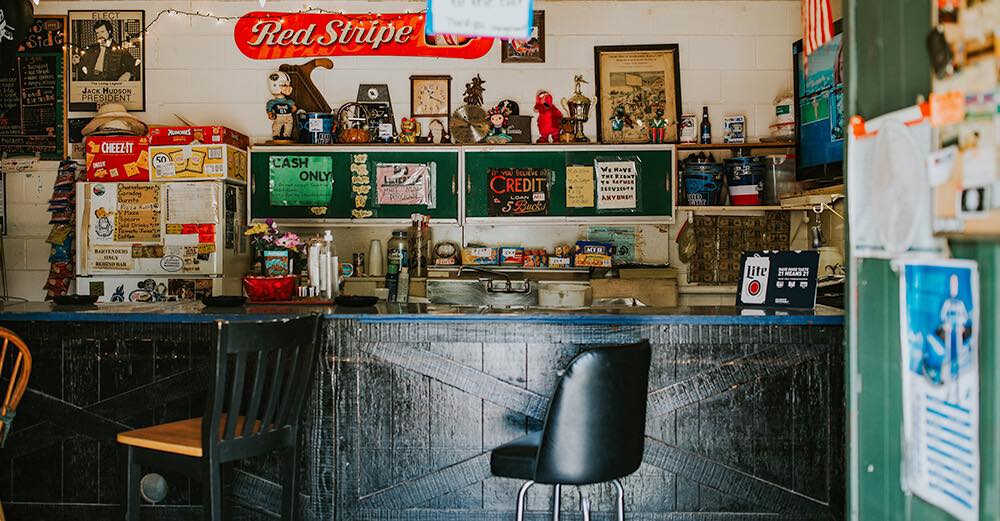 Sometimes instead of listening to live music, you want to make your own.
When that's the case, you'll want to head to Fran's karaoke bar and sing your heart out.
When you first pull up, the building doesn't look like much. But inside, you'll find all the true touches of a dive bar in a cozy environment.
When they don't have karaoke nights, live bands grace the stage, and there are a few pool tables to play.
This simple environment is the essence of the dive bar scene, and while Fran's isn't the most spectacular thing to look at, you'll have a blast every time.
Location: 2504 Dickerson Pike, Nashville, TN 37207
Mickey's Tavern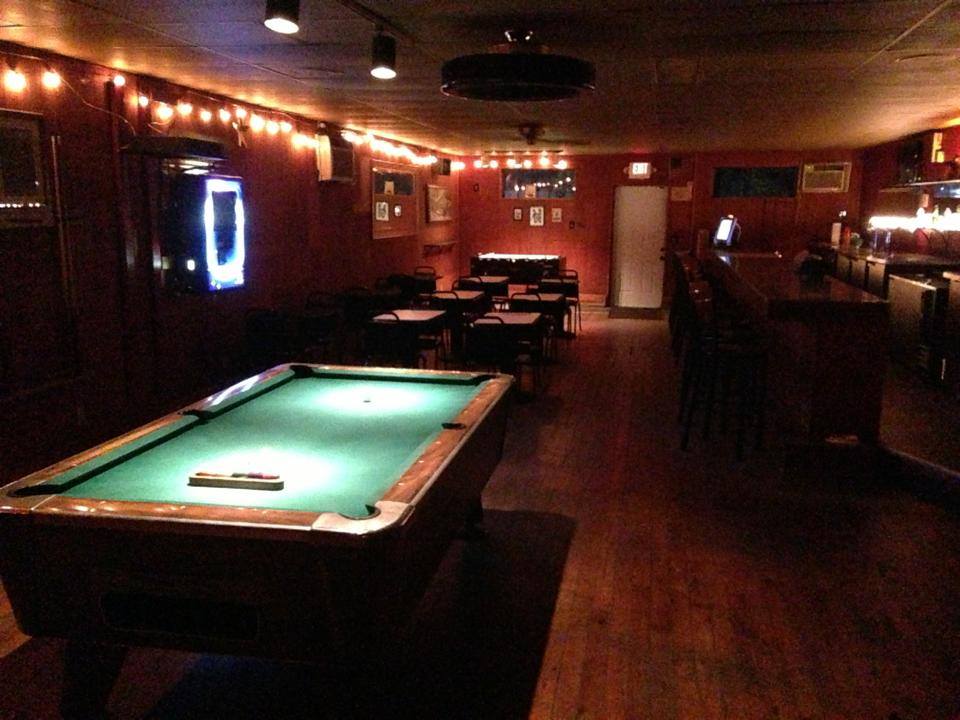 Here you'll find a popular neighborhood dive bar well-known for its jukebox-only tunes.
Mickey's Tavern stands out in Music City as one of the few bars without live music that's still one of the most popular watering holes in the area.
The unsuspecting building doesn't look like much, but once you step inside, you're immediately enveloped in a classic dive bar atmosphere.
Instead, the dimly lit room is highlighted by colorful string lights and neon signs, plus tons of memorabilia and signage covering the walls.
On tap, you'll find 8 taps of rotating beer, including domestic and craft options. Mickey's Tavern is well known by the locals for a good reason.
Location: 2907 Gallatin Pike, Nashville, TN 37216
The Red Door Saloon
Just as the name describes, this big building with bold red lettering and a matching front door will catch your eye.
The Red Door Saloon is the ultimate dive bar experience from the minute you set foot inside the door.
The drinks are cold and cheap, and the bar food hits the spot before or after a long night. It's even walking distance from a few other popular Nashville bars.
The walls are plastered with memorabilia, beer signs, and even a few random objects. But the atmosphere is truly unrivaled, and there are plenty of good times to be had at The Red Door Saloon.
Location: 1010 Forest Ave, Nashville, TN 37206
Rosie's Twin Kegs
Cold drinks and tasty burgers are a combination made in heaven.
Luckily Rosie's Twin Kegs is a long-standing hangout where you can enjoy draft beer, famous burgers, shuffleboard, and weekly karaoke.
This is a dive bar designed to create stories, and although the building and name have changed a few times, the concept remains the same.
A comfortable place to grab a cold beer and build memories with your favorite people.
This gritty watering hole is exactly what dive bar lovers look for, and Rosie's Twin Kegs delivers every time.
Location: 413 W Thompson Ln, Nashville, TN 37211
Santa's Pub
Dive bars come in many shapes and forms, but this one might just be the most unique.
Santa's Pub has been in business for over 10 years, serving cold beer in a double-wide that's decked out in holiday decor.
The interior is cozy and comfortable for grabbing a drink or two with friends on any night of the week.
Along with the cold beer served, they also have a live stage where live bands rotate, and there's always something playing.
There are a few food options, hot dogs, and bar snacks in true dive bar fashion. Don't forget to bring cash because they don't have any way to accept cards.
Santa's Pub is one holiday-themed dive bar that's a celebration year-round.
Location: 2225 Bransford Ave, Nashville, TN 37204
Springwater
This little dive bar has quite the claim to fame as the oldest continuously-run establishment in the state of Tennessee.
Springwater is a Nashville landmark where you'll find all the elements of a classic dive bar.
The wood-panel walls are lined with neon signs and vintage decor, cold drinks are poured constantly, and there are plenty of pool tables and live music to be enjoyed.
The most authentic part is they're still a cash-only bar. They even allow dogs on the patio when the weather allows.
Springwater is an iconic part of Nashville history and one dive bar you'll want to experience.
Location: 115 27th Ave N, Nashville, TN 37203
The Villager Tavern
This dive bar environment hasn't changed much since its inauguration, and you'll find everything you need for a fun night out in one location.
The Villager Tavern is a well-known neighborhood watering hole where you can play darts, drink beer, and snack on po'boy sandwiches.
This is one bar that takes its dart playing seriously. If you're just as serious, join their league.
They have constant live music, trivia, and other pop-up events for new things to try during the week. Plus, the drinks are always pouring.
The Villager Tavern is one dive bar dart-filled experience you won't want to miss.
Location: 1719 21st Ave S, Nashville, TN 37212
Wilburn Street Tavern
Here is a brick-facade saloon in the East Nashville area that perfectly fits the definition of a dive bar.
Wilburn Street Tavern is a classic Music City spot where the music is loud, the lights are low, and drinks are cheap.
You'll find they even have snacks, with a menu full of classic bar food bites. Locals run rampant in this establishment, and you'll find it's busy nearly every night of the week with some type of crowd.
They even host theme nights for added dive bar fun. So grab some friends and get ready for a good time before heading to Wilburn Street Tavern.
Location: 302 Wilburn St, Nashville, TN 37207
Final Thoughts
Sometimes a smokey bar with loud music and bright lights is exactly what you need at the end of a long week.
Dive bars are the perfect answer, and Nashville just so happens to be chock full of some of the best.