Whether you're in the mood to play a quick 9 holes after work or feel like playing a full 18 on the weekend, golf is a sport for the whole family, and luckily there are plenty of public courses for you to play in the Nashville area.
The Best Golf Courses in Nashville
Cedar Crest
Take a little trip outside of Nashville to Murfreesboro for this tee time. Cedar Crest Golf Club is 175 acres of retired farmland reimagined into rolling hills and Bermuda fairways.
The charming details of this course, like the 100-year-old stone wall and the cedar split-rail fence, are a nice break from the skyscrapers and other textures of normal city life.
The course is a challenging par 72 and features 4 sets of tee boxes for any skill level.
Along with the breathtaking views of rural Tennessee, you're met with a rustic clubhouse where they hold events or where you can relax after 18 holes.
Cedar Crest is the perfect course to escape, even for just a few hours.
Location: 7972 Mona Rd, Murfreesboro, TN 37129
Cheekwood Golf Club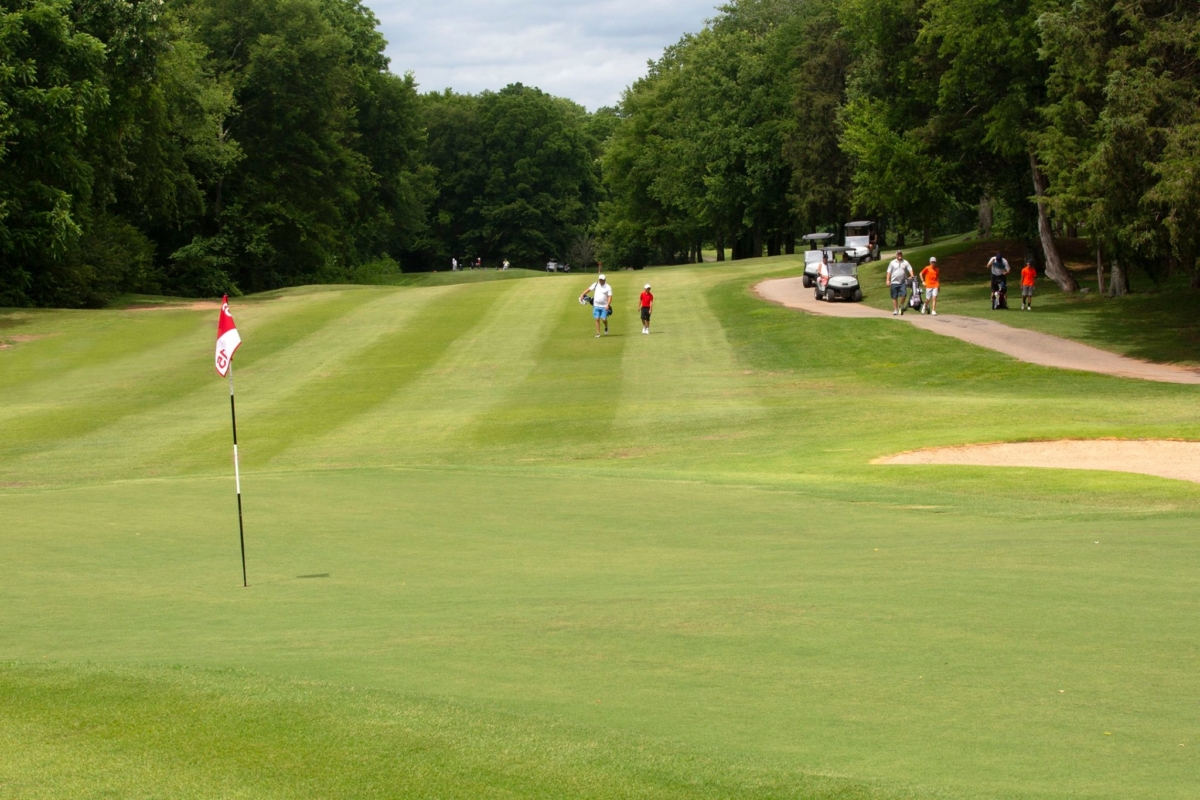 You'll find this beautiful public course tucked into the cozy neighborhood of Franklin.
Cheekwood Golf Club is a quick round of golf with a 9-hole par 33 course.
This unique layout includes holes for all skill levels, and with the short course, it makes the perfect place to stop in the evening after work to play a quick round.
There isn't a traditional driving range, but instead, a smaller practice facility where you can still get a few swings in before diving into the game.
This is a laid-back course, and you won't find any high-end meals or drinks in the clubhouse. Instead just a welcoming environment and a hot dog special.
Cheekwood Golf Club is a great place to go and enjoy the game of golf.
Location: 285 Spencer Creek Rd, Franklin, TN 37069
Gaylord Springs Golf Links
Enjoy playing a Scottish-inspired course without having to leave Tennessee.
Gaylord Springs Golf Links is a public course open for all to enjoy that's only 10 minutes from the Nashville airport.
This is an 18-hole par 72 courses with ample amenities for events beyond golf.
This is considered a must-play course for serious golfers in the Nashville area, and it's probably in part due to the fact that they keep the greens in immaculate condition.
Here you'll also find a golf institute where you can take lessons and learn from PGA professionals. Gaylord Springs Golf Links is a must-see course in Tennessee for any golfer.
Location: 18 Springhouse Ln, Nashville, TN 37214
Harpeth Hills Golf Course
With some of the most picturesque views in Nashville, you'll want any excuse to book a tee time at this course.
Harpeth Hills Golf Course is an 18-hole course with carts and a welcoming clubhouse for after you finish a round.
Nestled up to Percy Warner Park, this is a widely respected facility and is well-known as one of the best in Nashville.
Just a few years ago, they got their most recent upgrade, which was to add Bermuda grass to all the greens on-site.
This is a par 72 course laying out a challenge for golfers of any skill level. It's also well-known as a qualifier for the USGA Public Links Championship.
Harpeth Hills Golf Course is the perfect place to play a round of golf, with some of the best views around.
Location: 2424 Old Hickory Blvd, Nashville, TN 37221
Hermitage Golf Course
Voted the #1 public golf course in Tennessee, you won't want to miss out on a round at this infamous course.
Hermitage Golf Course offers a slight challenge to keep the game interesting, but it can still be a leisurely game for the occasional player.
This course was designed over 300 acres of natural wetlands and along the banks of the Cumberland river.
Not only can you play a round here, but you can also spend the night and play again in the morning with unique Golf Course Lodges.
Hermitage Golf Course was voted #1 for a reason, and you'll want to see why for yourself.
Location: 3939 Old Hickory Blvd, Old Hickory, TN 37138
The Legacy
Play through rolling greens, natural woodlands, and scenic views of rural Tennessee.
The Legacy was designed by a PGA champion in 1996 and provides a fun and challenging experience for golfers of any experience level.
This is a traditional 18-hole par 72 course, which is truly a gem of the Nashville golf scene. You'll be surrounded by wildlife, too, as this is a conservation area for the Tennessee Audubon Society.
The Legacy is one tee time you're going to want to make.
Location: 100 Raymond Floyd Dr, Springfield, TN 37172
McCabe Golf Course
Here is a public course that's been in operation since 1942 with no plans on closing any time soon.
McCabe Golf Course is a massive 27-hole facility with courses and practice facilities for every golfer.
This course has large tree-lined fairways and sand bunkers to avoid.
It can be a challenging experience for experienced golfers but also a great course for those just beginning in the game.
There's even a driving range with targets for getting all the practice you need before hitting the greens. McCabe Golf Course offers a perfect location for every golfer to enjoy.
Location: 4601 Murphy Rd, Nashville, TN 37209
Shelby Golf Club
Take a trip to East Nashville to experience this historic golf course which has been open since 1924.
Shelby Golf Club is the first municipal golf course in Nashville and contains 18 holes of beautiful and lush greens.
The rolling hills and picturesque landscape create the perfect backdrop for your day of golfing.
No matter your skill level, you'll enjoy a round at this course, with holes that will challenge you and others that you'll breeze right through.
Along with their long-running course, they also host the longest-running golf tournament in Tennessee.
Shelby Golf Club is well-known for many reasons, and it's one course you won't want to miss.
Location: 2021 Fatherland St, Nashville, TN 37206
Smyrna Golf Course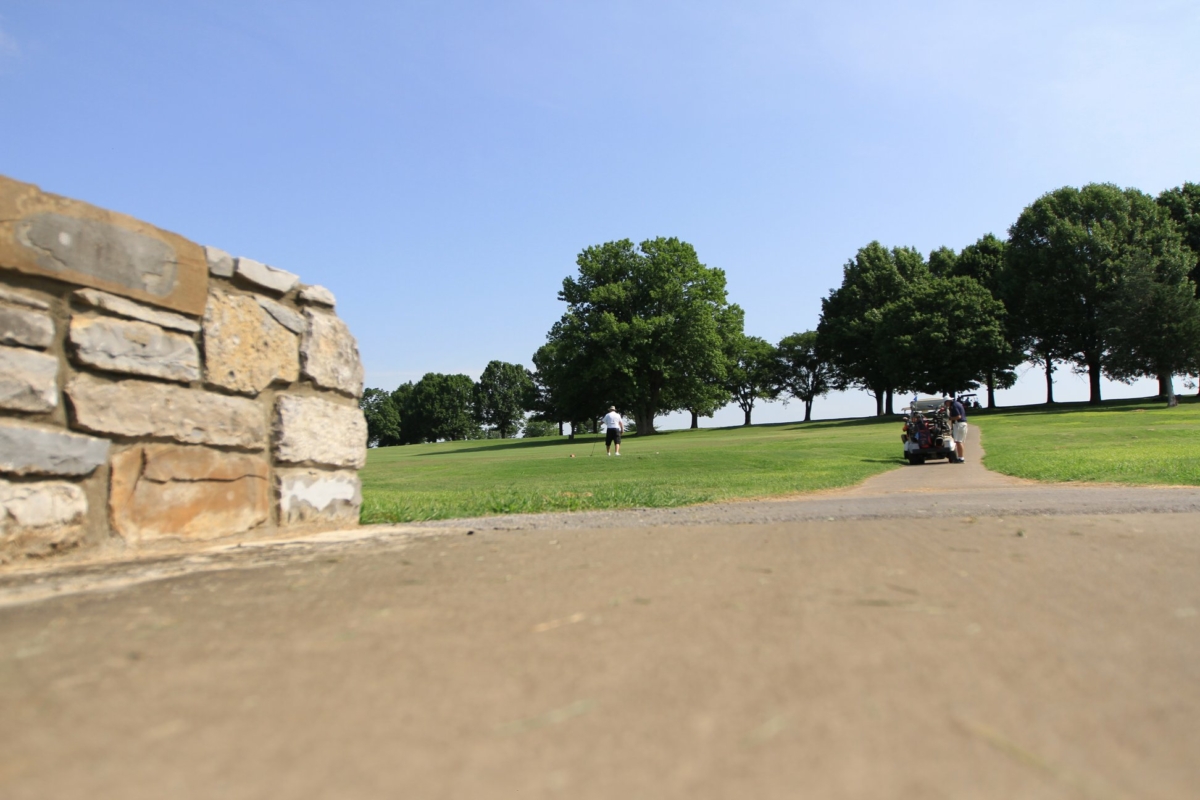 There's a little something for everyone at this Nashville area golf course.
Smyrna Golf Course is a 27-hole course that creates a little bit of a challenge and a fun round of golf.
The greens here are immaculate, and it's a par 70, making it a great place for a beginning golfer to get some experience and have fun doing it.
Along with the 18-hole course, there's an additional 9-hole executive course and a driving range for practice. Unwind after a round with their snack bar, or take a look at the pro shop.
Smyrna Golf Course is the perfect playing field for golfers of any experience level.
Location: 101 Sam Ridley Pkwy E, Smyrna, TN 37167
Ted Rhodes Golf Course
On the banks of the Cumberland River in North Nashville, you'll find this 18-hole course that's been graced by many big names in the sport.
Ted Rhodes Golf Course opened initially in 1953 as a 9-hole course and later was transformed into an 18-hole course.
Now the course includes sand bunkers and water features to create a bit more of a challenge for golfers.
It's an easy course to walk, and with all the surrounding wildlife, you'll want to take in every minute you can on this beautiful property.
Don't miss out on booking a tee time at Ted Rhodes Golf Course this season.
Location: 1901 Ed Temple Blvd, Nashville, TN 37208
Final Thoughts
No matter if you're a novice or an expert, there's a course ready to be played.
Go for real practice or just for fun; these golf clubs across Nashville won't disappoint.