Musical artists aren't the only artists in Music City, and that's proved with a visit to any tattoo parlor.
Get your new piece of artwork from only the best of these local shops around the city.
The Best Tattoo Shops in Nashville
Art Immortal Tattoo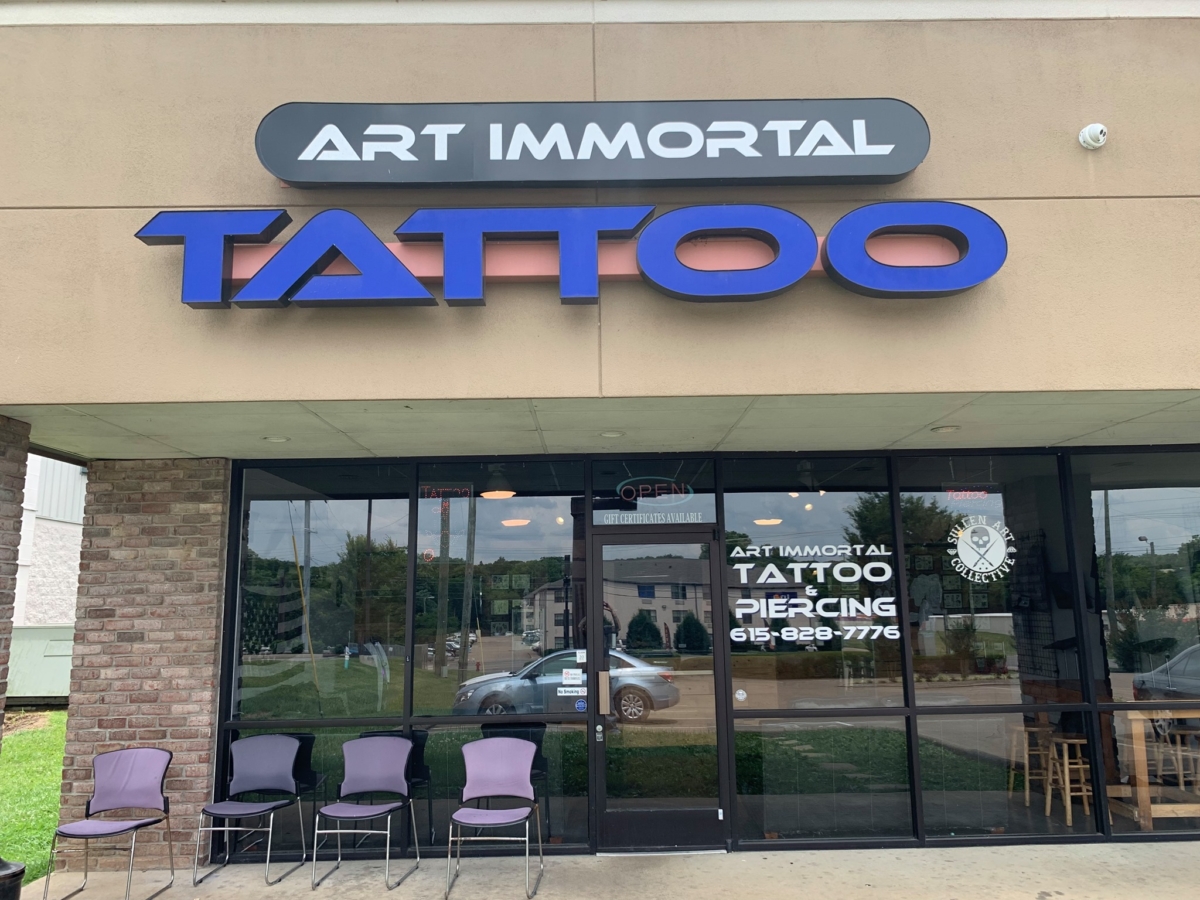 This Nashville area tattoo parlor specializes in body modifications of all kinds.
Art Immortal Tattoo is here to help your tattoo dreams become a reality, whether it's to express your personality or as a memorial to loved ones.
This tattoo shop aims to ensure each experience is memorable and professional, so you leave happy.
They have two locations in the area, so there's almost always an artist on staff that can match the style you're going for.
Plus, they accept both walk-ins and appointments, so you can plan ahead or get something on a whim. Art Immortal is a welcoming shop where you'll quickly become a loyal customer.
Location: 660 Myatt Dr #106, Madison, TN 37115
Artwerks Studios
Here you'll find an award-winning studio that creates customized tattoos that fit your exact vision.
Artwerks Studios showcases some of the best tattoo artists and piercing specialists in the city of Nashville.
This shop was started with the goal of creating a unique environment where artists can create custom pieces with an impressive eye for detail.
Each artist here specializes in their own style, so you'll want to research each portfolio before deciding which one can turn your tattoo dream into reality.
Artwerks Studio is here to help you look exactly the way you feel with immaculate body art.
Location: 386 Haywood Ln, Nashville, TN 37211
Black 13 Tattoo Parlor
This tattoo shop is in a beautiful and eye-batching modern black facility where they produce beautiful custom tattoo designs.
Black 13 Tattoo Parlor has been open since 2008 and strives for excellence in every piece.
They're award-winning, being named Nashville's best tattoo studio for 13 years in a row.
This is a clean and comfortable, professional space where your vision will be transformed into a custom body-art piece.
With 10 artists on staff and a collaborative environment, you'll find the perfect individual at Black 13 Tattoo Parlor to give your next tattoo life.
Location: 1313 Dickerson Pike, Nashville, TN 37207
Electric Hand
Stop into this cozy and laid-back East Nashville spot for your next piece of ink.
Electric Hand aims to make every customer comfortable while helping them create a permanent art piece.
They currently have four artists on staff, all with their own style to help your vision come to life.
Full color, black and gray, fine line, there are so many styles to pick from.
The interior here is clean and comfortable, with the traditional tattoo parlor feel as flash designs, and stencils line the walls.
Electric Hand is the perfect place to get your first or next tattoo in Nashville.
Location: 913 Gallatin Ave, Nashville, TN 37206
Icon Tattoo
Open since 1997, cleanliness and professional service is nothing new for this tattoo parlor.
Icon Tattoo features artists from every background, so this diverse staff will be welcoming and accommodating to all who enter the doors.
There's an experienced staff who tattoo in a wide range of styles, so there's truly something for everyone.
Plus, professional piercers use only the highest-grade jewelry and the best techniques the industry has to offer.
Whether you decide to book an appointment ahead of time or walk in on a whim, Icon Tattoo is the perfect choice for your next permanent art piece.
Location: 1925 Church St, Nashville, TN 37203
Kustom Thrills
With two locations in Nashville, this award-winning tattoo parlor is a go-to for everything tattoo.
Kustom Thrills has a large staff of artists who produce work in a wide variety of styles, so there's something for every individual.
The artists here focus on creating custom pieces that help you tell a story and last forever.
This world-class team includes artists who are sought-after, with customers flocking from far beyond Nashville to get ink here.
They'll take your idea and collaborate to bring it to life. Kustom Thrills is a tattoo experience you won't soon forget.
Location: 1000 Main St, Nashville, TN 37206
One Drop Ink
Here you'll find Nashville's first Black-Owned tattoo parlor. One Drop Ink is a parlor and gallery that focuses on body art of all styles.
The artists here pride themselves in the ability to professionally create breathtaking tattoos on any skin color and have won awards for the work they've produced.
You'll feel welcomed in, no matter if it's your first time or your 15th.
On staff, you'll find 9 artists, all ready to help bring your design to life with their own unique styles and techniques.
No matter what style you're after, One Drop Ink has artists that will produce a tattoo you'll love forever.
Location: 1511 Jefferson St, Nashville, TN 37208
Pride + Glory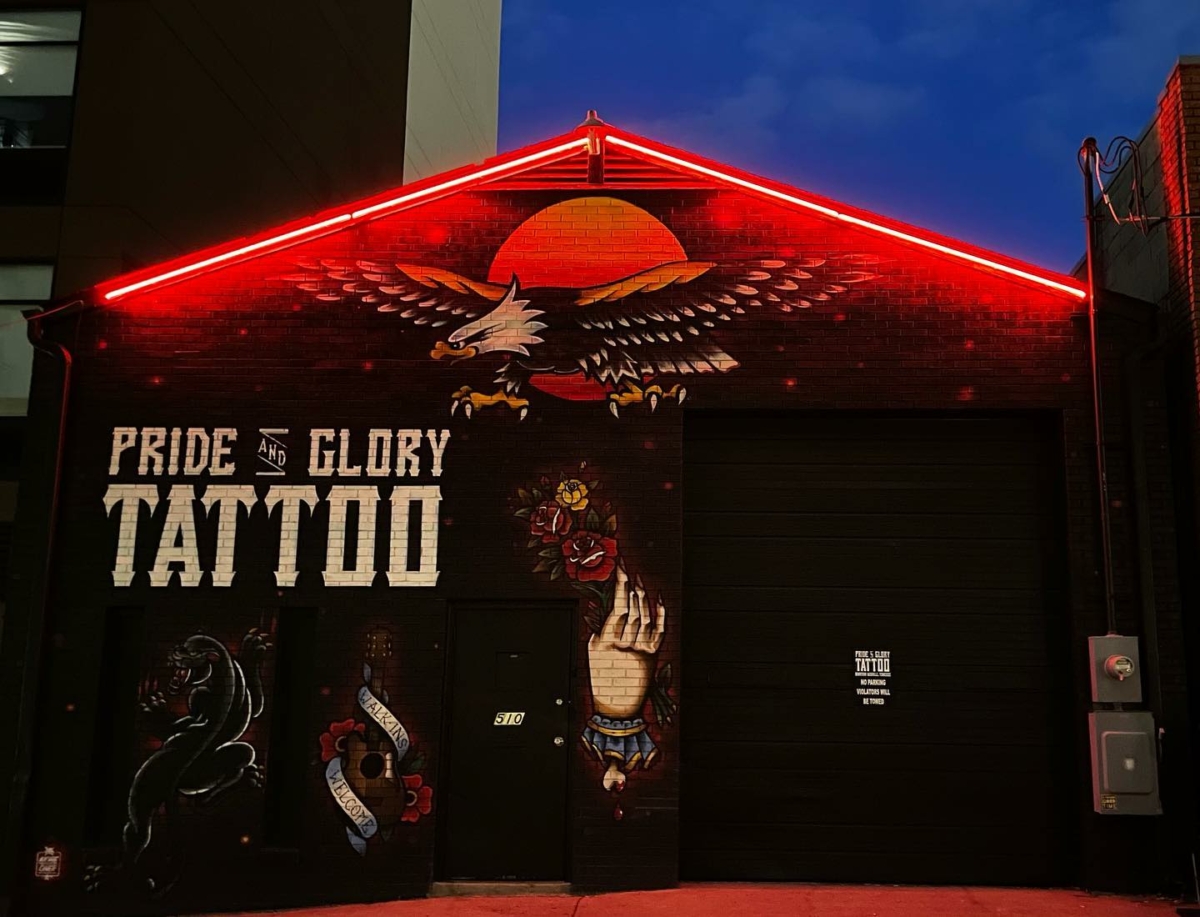 The massive traditional American mural on the side of this parlor will definitely catch your attention.
Pride + Glory is a premier parlor in the heart of downtown Nashville.
This shop specializes in custom pieces that will stand the test of time with professional and talented artists on staff.
Everything here is genuine, from the staff's attitude to the art piece they create for you.
Walk-ins are available every day, or you can book a consultation if you need some help with the process.
Pride + Glory is everything you're looking for in a tattoo parlor without having to go too far.
Location: 510 Rep. John Lewis Way, Nashville, TN 37203
Safe House Tattoo Studio
In business for over 10 years, this is an eclectic group of Nashville natives who all create tattoos in unique styles.
Safe House Tattoo Studio is a welcoming and comfortable environment, whether it's your first time under the needle or you're a seasoned veteran.
Here the artists are nurtured so they can express their own styles and focus on the work they actually want to create.
The vibe this creates is then passed from the artists onto customers as they help design one-of-a-kind pieces.
They have numerous people on staff, so there are plenty of portfolios to browse before you decide what art is the best fit.
Safe House Tattoo Studio definitely is a safe place to express yourself with permanent body art.
Location: 4303 Gallatin Pike, Nashville, TN 37216
Titan Tattoo
In this classic tattoo shop, you'll find a clean and welcoming environment, the perfect place to indulge in your new body modification.
Titan Tattoo is about 6 miles from downtown Nashville but well worth the little trip for your next tattoo.
The artists here specialize in a wide variety of styles and work, from flash pieces to custom designs, coverups, as well as realistic portraits.
No matter what design you come up with, there's an artist on staff who is happy to help create the ink of your dreams.
Titan Tattoo is a Nashville go-to for your latest addition to your human canvas.
Location: 2605 Lebanon Pike, Nashville, TN 37214
Final Thoughts
Settle for nothing less than the best for your next tattoo from an artist at any of these Nashville tattoo shops.