There's nothing better than starting your morning with a stack of fresh, hot, and fluffy pancakes covered in syrup and your favorite toppings. These restaurants around Music City are serving up the best.
The Best Pancakes in Nashville
Fido
This spot used to be a pet store, but now they're serving up some of the best breakfast you'll find in the city.
Fido has a funky coffee house vibe with espresso drinks and elevated meals, including delectable pancakes.
Their all-day menu features local produce and goods, so everything you enjoy on the organic menu is farm-to-table.
Breakfast anytime means you can indulge in their stacks of fresh pancakes too. They keep it simple and serve up three large buttermilk pancakes classically paired with butter and maple syrup.
You can also order one of these on the side of any meal. Fido is the place to go for just-like-mom-made-them pancakes.
Location: 1812 21st Ave S, Nashville, TN 37212
The Loveless Cafe
Here is where you'll find real southern food, including breakfast, in Music City.
The Loveless Cafe remains the same as the day it opened 50 years ago, with quaint charm and delicious home cooking.
While they're a well-known spot for a terrific biscuit, one menu item that also stands out is their pancakes.
While they're not traditionally southern, they create hot fluffy cakes that make the perfect breakfast. You can order these on a platter or as a side to enjoy pancakes with any meal.
The Loveless Cafe is a staple for outstanding breakfast in Nashville.
Location: 8400 TN-100, Nashville, TN 37221
Midtown Cafe
This long-running restaurant in Nashville is well known to be open all day, serving up delicious cuisine for any meal.
Midtown Cafe brings creative American meals into an intimate art-filled spot, and one item stands out above the rest on its breakfast menu.
Here they serve up a ton of options at every meal, all delicious and filling. However, their pancakes served until 2 pm are one of the best things you could choose.
These two cakes are served with two eggs and breakfast meat of your choice. You can add blueberries, chocolate chips, or even a delectable peach compote with whipped cream.
Midtown Cafe is easily in the running for the best pancakes in Nashville.
Location: 102 19th Ave S, Nashville, TN 37203
The Pancake Pantry
Started in 1961, just like the name states, they've been a go-to place for delicious pancakes since the doors first opened.
The Pancake Pantry serves up a menu of scratch-made pancakes along with other unforgettable breakfast and lunch items.
Each morning they prepare fresh batter, syrups, compotes, and more so you can enjoy the best breakfast around. Here pancakes range from simple to extravagant and everything in between.
Fun features include their sweet potato, silver dollar, Caribbean, and even rolled cakes stuffed with fruit compote.
The Pancake Pantry is one of the best options for fluffy, fresh, and delicious pancakes every single time.
Location: 1796 21st Ave S, Nashville, TN 37212
Pfunky Griddle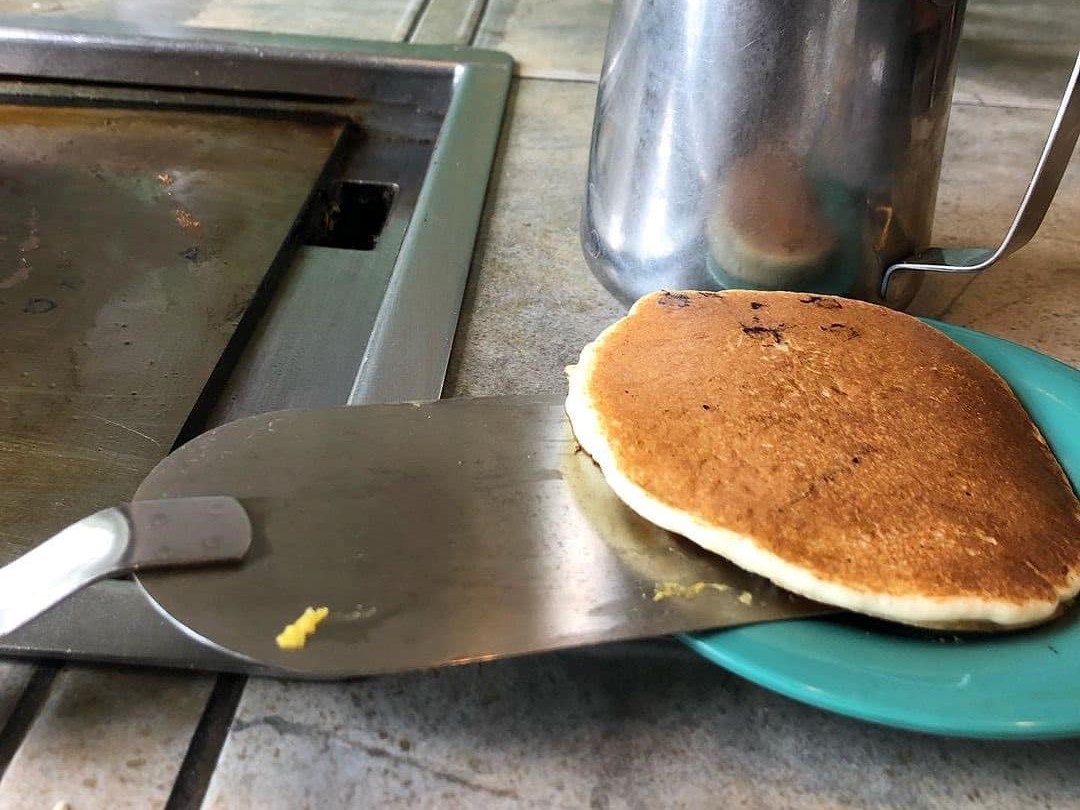 This breakfast spot serves up a slightly different family-friendly experience than other restaurants around the city.
At Pfunky Griddle, the customers are the cooks, and you'll have the opportunity to cook your own pancakes and then coat them with a fun assortment of toppings.
There is no need to go buy all the ingredients yourself; here, they supply everything you need to start making pancakes.
They handle all the prep and cleanup while you just get to enjoy cooking and eating the breakfast cakes right at your table.
Pfunky Griddle lets you get in on the action with a different take on a pancake restaurant.
Location: 2800 Bransford Ave, Nashville, TN 37204
Puckett's Restaurant
In downtown Nashville, you'll find this southern bar that has roots as a grocery store way back in the day.
Puckett's Restaurant opens at 7 am every day of the week to bring you a hearty and delicious breakfast, including their pancakes.
Terrific alone, these fluffy cakes are also available with many mix-in additions like strawberries, bananas, blueberries, chocolate chips, or even toasted pecans.
You can even order a side of buttermilk, sweet potato, or apple jack pancakes on the side of any other meal. Puckett's Restaurant has been serving up some of the best pancakes since it opened in the 50s.
Location: 500 Church St, Nashville, TN 37219
Sky Blue Cafe

Here you'll find a classic and colorful diner that features local coffee, freshly baked goods, and breakfast available every morning.
Sky Blue Cafe is a simple corner spot where you'll find delicious breakfast options, including their pancake selection.
Served in stacks of 2 or 3, you get to pick between simple and classic buttermilk cakes or elevate them with stuffings and toppings.
Banana Nutella, PB+J, and savory stuffed are all worthy of mention and a taste test. Sky Blue Cafe is a great option to kick your pancake cravings.
Location: 700 Fatherland St, Nashville, TN 37206
Sun Diner

Named one of the best diners in Nashville, it's only fitting that they serve up classic diner eats, including pancakes.
Sun Diner is a fun and nostalgic Sun Records-themed space where you'll get to order from a menu of Southern favorites and breakfast specialties.
Order their delicious fluffy cakes as a side, or dive into something more over-the-top, like the favorite Elvis pancake.
This option features fluffy hot pancakes with peanut butter drizzle and a house-made banana foster. Sun Diner is a terrific option for a pancake breakfast in Nashville.
Location: 105 3rd Ave S, Nashville, TN 37201
Varallo's
While this spot is open on weekdays only, it's a great restaurant to indulge in a hearty breakfast before work.
Varallo's features classic southern cooking in a no-frills space where you'll find yourself coming back to over and over again.
Family owned and operated for over a century, here you'll find some of the best pancakes in the city. What makes these so special is that the recipe has been around even longer than the restaurant.
Crafted from Grandma Eva's 100-year-old recipe, you'll get to indulge in two large and fluffy pancakes.
Varallo's has been doing something right since they first opened over 100 years ago, and the pancakes are definitely part of that.
Location: 239 4th Ave N, Nashville, TN 37219
417 Union
Here you'll find an all-day menu featuring both American and Southern fare, plus WWII and Civil War memorabilia.
417 Union is a terrific two-story space where you can go to indulge in delectable brunch food any time of the day, including their fresh and fluffy pancakes.
Along with classics like a big country breakfast or sausage gravy and biscuits, you'll find a whole section of the menu dedicated to their buttermilk pancakes.
You can order these with a side of breakfast meat, in a combo, or even with a side of fried chicken. Plus, they make it an option to add in chocolate chips, pecans, blueberries, strawberries, or bananas.
417 Union is always a great choice for breakfast, no matter the time of day.
Location: 417 Union St, Nashville, TN 37219
Final Thoughts
The perfect breakfast meal includes a huge stack of pancakes. Hot, fluffy, and covered in syrup, a pretty sweet way to start your day.