Treat yourself to a new set of nails for any occasion. Whether you're looking for basic polish or a fancier set like Dolly, these Music City nail salons will become your new go-to.
The Best Nail Salons in Nashville
Athenian Nail Spa + Bar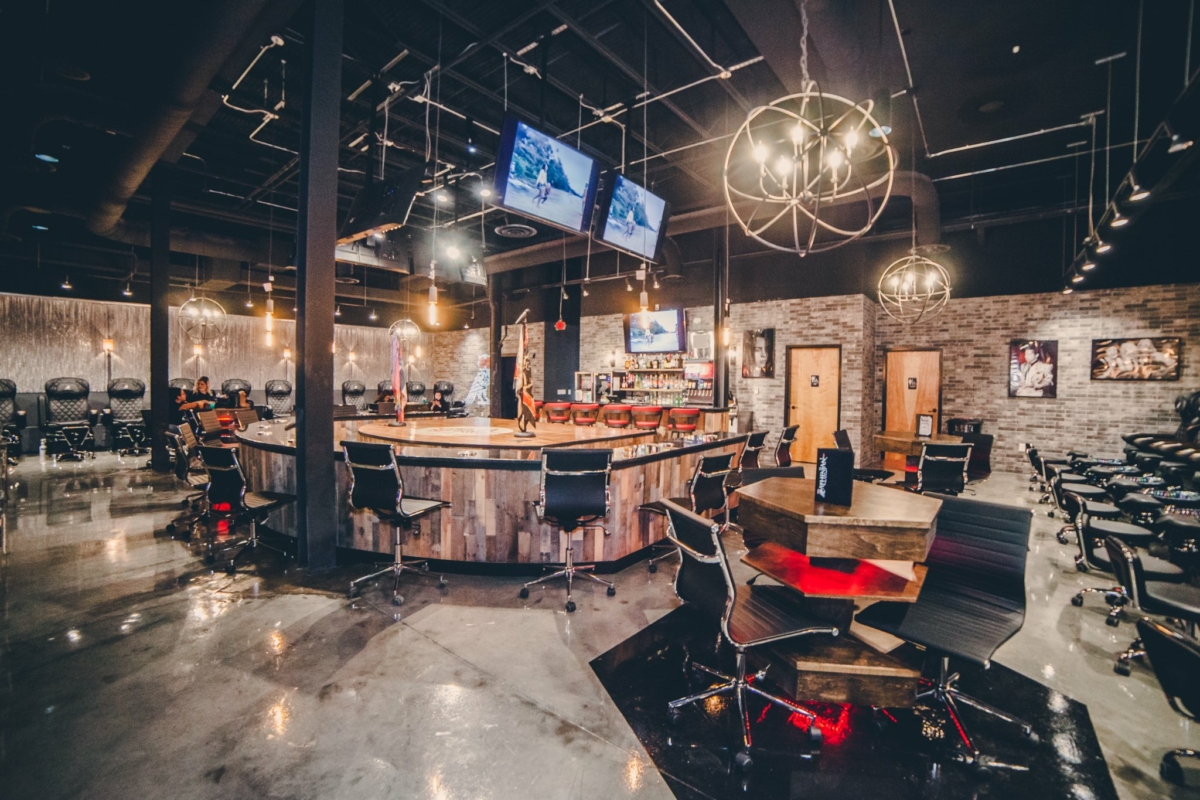 Music City's destination for everything nails, this is a long-time favorite in the local area.
Athenian Nail Spa + Bar has been featured by many large publications like USA Network, CMT, Entertainment Network, and more.
As a salon with so much notoriety, nail art lives up to expectations. You'll be entertained by throwback music videos of Nashville favorites from the 80s, 90s, and 2000s while the technicians turn your nails into a canvas.
No matter what design you're looking for, from plain to over-the-top, they'll be able to deliver. Inspired by Athena herself, Athenian Nail Spa + Bar will leave you feeling like a goddess.
Location: 15537 Old Hickory Blvd, Nashville, TN 37211
Color Me True
Not only will you relax while getting your nails pampered, but you can also have an adult beverage while doing so.
Color Me True offers each customer a cocktail, mimosa, or beer while enjoying their services so you can truly relax and unwind.
Not like your average salon, the complimentary drink is just the beginning.
This is an upscale and welcoming environment that's the perfect getaway while their technicians are focused on your nails. Book online or walk in; you can even bring small groups.
Color Me True will give new life to your nails while you sip and relax.
Location: 1236 3rd Ave N, Nashville, TN 37208
East Nails + Spa
Set an appointment or walk in when it's convenient for you. East Nails + Spa is a welcoming salon where you'll be able to enjoy manicures and pedicures, plus a variety of other spa services.
This is the perfect environment to pamper yourself and walk out with the nails of your dreams.
The staff is friendly and welcoming, plus they'll create the perfect design that meets your expectations every time.
No matter the color combination or details you want to add, East Nails + Spa is up for the challenge.
Location: 604 Gallatin Ave Unit 108, Nashville, TN 37206
Lacquer Lounge
You won't be able to walk in here, but making an appointment is well worth it.
Lacquer Lounge offers a wide variety of salon services, but you'll especially love the dedication to nails.
Their salon menu is huge, with options for nearly any manicure or service you're looking for, even some you maybe haven't heard of.
They're upfront about pricing and place everything, including types of nail art, into categories to make it easy.
Keep it simple and classic, or go all out with their Glam AF nail services which include gems, pressed flowers, confetti, and more.
Lacquer Lounge is the only place you'll need to go for all your nail-related needs.
Location: 704 18th Ave S, Nashville, TN 37203
Luminous Nail Bar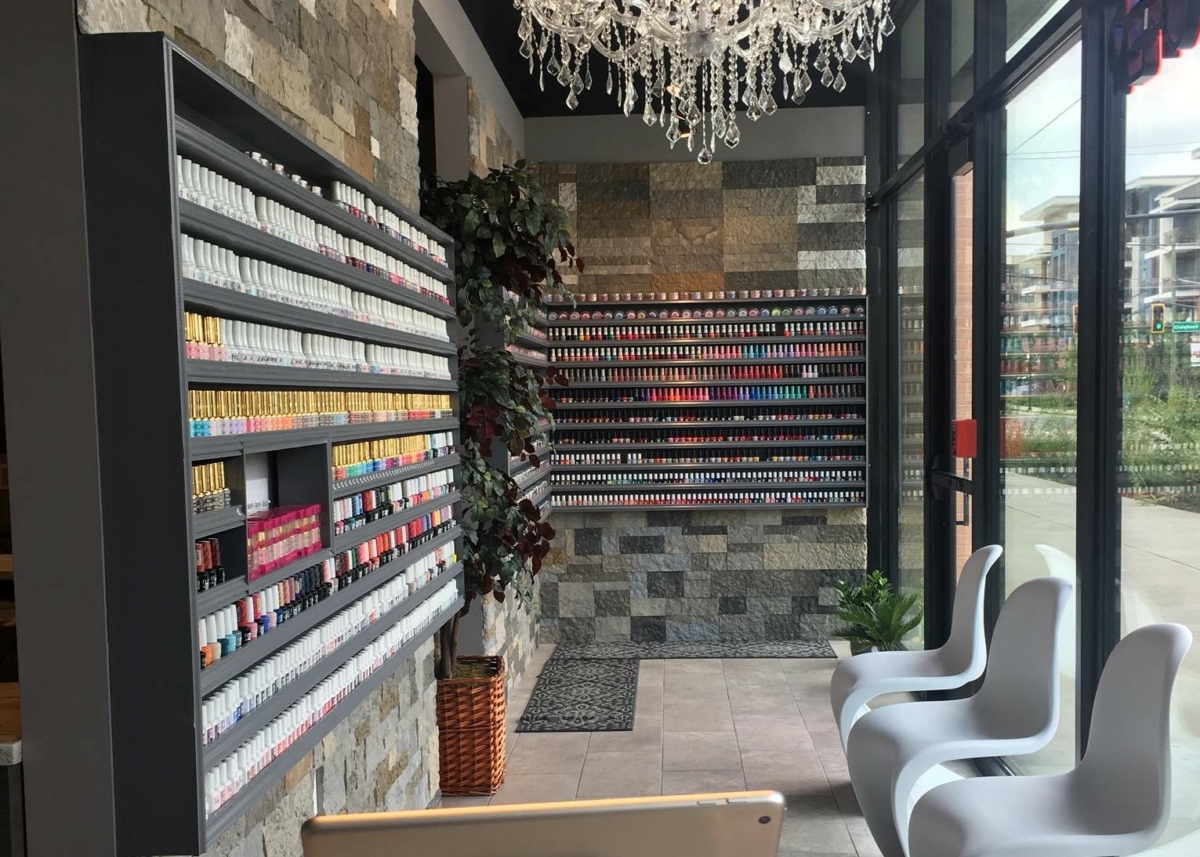 You'll have a tough time picking just one color at this local Nashville nail salon.
Luminous Nail Bar is an elegant and modern salon where you'll have the opportunity to relax as they transform your nails into a new work of art.
Book a party or go alone; either way, they'll curate the services to be exactly what you're looking for.
Relax with a pedicure which will result in healthier skin and nails, or stick with a classic manicure. You can even add on treatments before they add polish to your fingers.
Luminous Nail Bar is everything you've been looking for in a nail salon.
Location: 2407 8th Ave S #104, Nashville, TN 37204
The Nail Spot
With over 12 different nail-related services offered on their menu, The Nail Spot is a go-to for anyone looking for anything from classic polish to dip powder.
Classic pedicures and manicures, hot oil treatments, fill-in, repair, anything to do with nails, they've got you covered.
Feel brand new again with a new set of nails to match. The nail techs here will make you feel comfortable and welcome while transforming your plain or old nails into something new.
The Nail Spot is a Nashville go-to for all the nail services you can dream of.
Location: 113 Donelson Pike, Nashville, TN 37214
West End Nail Bar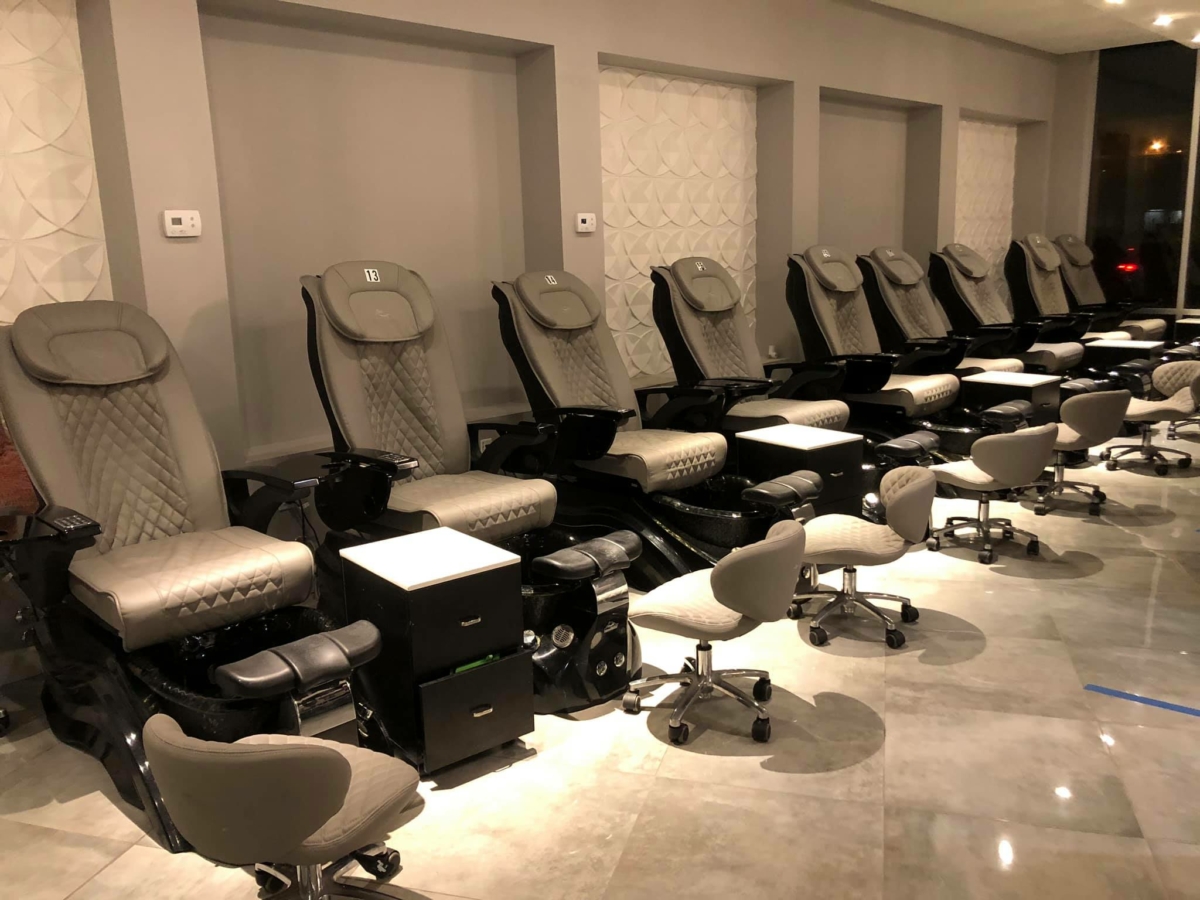 The manicures here are some of the best in Nashville and are perfect for your next set of nails.
West End Nail Bar welcomes both appointments and walk-ins for any nail service you could think of.
They have a variety of nail technicians that can turn your dreams into a reality with any color combination, length, and shape you can think of.
The modern, elegant, and bright salon is always clean and welcoming, and the friendly staff makes the experience relaxing and comfortable.
Stop in as a treat to yourself, or make it a regular thing at West End Nail Bar.
Location: 2316 Elliston Pl, Nashville, TN 37203
Poppy + Monroe
When you're looking to explore the world of natural beauty, start with a visit to this nail salon.
Poppy + Monroe specializes in manicures, pedicures, cosmetics, and skin care, offering a wide variety of services for a day of natural pampering.
The goal here is to be a non-toxic and all-natural nail salon with products and treatments that will nourish your skin while also adding that pop of color to your fingertips.
They specialize in nail art and these therapeutic manicures and pedicures. Feel refreshed in your fingers and toes after a visit to Poppy + Monroe natural nail salon.
Location: 604 Monroe St, Nashville, TN 37208
Vogue Nails of Sugar Valley
Attention to detail is important and what this nail salon is all about. Vogue Nails Of Sugar Valley gets rave reviews for the service provided at their nail salon.
The artists here take their time to perfect each nail and ensure they fit together perfectly.
They take the time to understand what you're looking for, and the end result will be exactly what you described.
This is a relaxing and clean environment for you to be spoiled with the best pedicures and manicures in the Nashville area. Vogue Nails Of Sugar Valley is one place you'll go back to over and over again.
Location: 6601 Sugar Valley Dr #108, Nashville, TN 37211
Vsl Nail Spa
Treat yourself to a spa service, including nails and more. VSL Nail Spa is a top-quality spa that offers manicures and pedicures along with a variety of other services.
While they also offer waxing, threading, and other spa services, nails are their specialty.
The pedicures come with options to cater to your individual needs, including organic, volcanic, and green tea treatments.
Manicures are available in a variety as well, from regular polish to artificial nails, gel, and dip, plus additional services like artwork.
Don't wait for a special occasion to treat yourself to VSL Nail Spa.
Location: 414 11th Ave N, Nashville, TN 37203
Final Thoughts
Turn your nails into artwork with a stop at one of these popular Nashville nail salons.