People flock to Nashville for many reasons; the music, food, and nightlife are just part of that. When adult entertainment is on your list of to-dos in Nashville, you'll want to know where to go and where to avoid.
We're here to help with that by offering our list of the best strip clubs in Music City.
In the last few years, the demand for strip clubs and adult entertainment venues has fallen to the wayside as newer generations are less interested in this type of nightlife.
However, that doesn't mean there aren't still options for this type of entertainment, and there's plenty of fun to be had.
Hustler Club
Larry Flynt's Hustler Club is one of the remaining adult entertainment venues in Music City. Hustler Club is open every night of the week, with doors opening at 4 pm and not closing until the wee hours of the morning.
This is a totally nude club meaning everyone who enters has to be at least 18+, and they're going to be checking IDs at the door. You can purchase a VIP pass to this club if you intend to come often or avoid spending unnecessary money.
This starts with a one-time VIP pass that allows you and one guest entry into the club, one NA drink, and a free 2-for-1 couch dance pass. From there, the packages get more extravagant and include more options, including free merchandise, a complimentary photo, and free vouchers for private dances and closed spaces within the club.
Things only get better from there as they offer a total of 6 different party packages to pick from. If you follow them on social media, they'll also offer discounts and other promotions just for being a loyal follower.
This upscale space offers a luxury ambiance and impeccable guest service, plus lots of beautiful girls waiting to dote on you. This totally nude BYOB gentlemen's club is one of the remaining adult venues in Nashville, and it's well worth the visit to the Hustler Club.
Location: 822 Rep John Lewis Way S Suite A, Nashville, TN 37203
The Best Strip Clubs in Nashville
Deja Vu – Adult Entertainment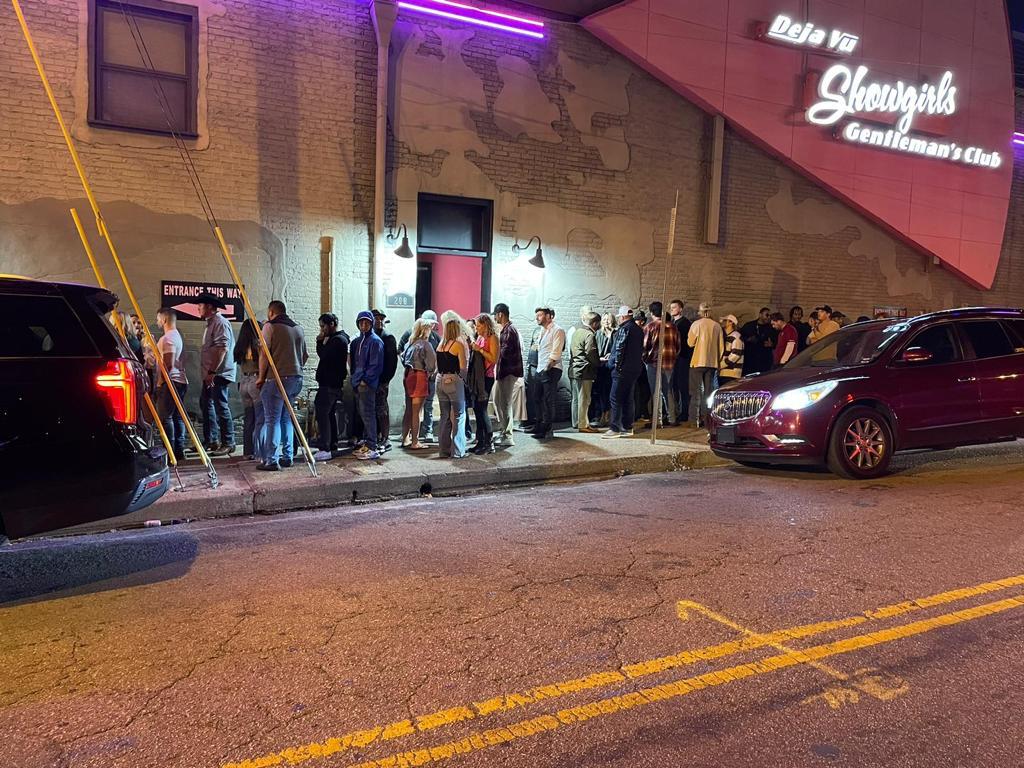 These Nashville strip clubs are all owned by the same adult venue company, Deja Vu. For over 50 years, they've provided cities across the US with the adult theater business.
What began simply as a way to revive a failing drive-in movie has transformed into this worldwide chain that includes hundreds of clubs, theaters, and bookstores. These range from sports bars to restaurants, karaoke bars, and adult clubs.
These upscale adult nightclubs can be found worldwide, and they remain an undisputed leader in the adult entertainment category.
Going as far as to be named the #1 erotic entertainment business internationally, with locations in major cities across the US and beyond.
This massive adult entertainment chain has two locations within Nashville that offer the best strip club options remaining in the city.
Location: 1418 Church Street, Nashville, TN, 37203
Hunk-O-Mania
This male strip club is one of a kind in the city of Nashville and creates the perfect destination for a Music City bachelorette party. Hunk-O-Mania brings up the hottest male strippers around and puts them up on stage nearly every night of the week.
They keep things fresh with new routines and performances, so you'll never sit through the same show twice. New costumes and new men have joined the stage recently, too, making it an all-new crew of eye candy.
Slightly different from a female strip club, this experience consists of a 2-hour male strip show which includes a spectacular range of entertainment.
Sensational dancing, acrobatics, even comedy, and more are found on this stage, all making the night one unforgettable experience.
This is a 21+ club, and IDs are checked at the door, so grab your group of friends and head out for the ultimate girls' night at Hunk-O-Mania in Nashville.
Location: 909 Rosa L Parks Blvd, Nashville, TN 37208
Other Adult Entertainment
The final strip club worth visiting in Music City is really catered to the ladies.
The rise of male adult entertainment has come a long way from the original Chippendale show out of Las Vegas. More women want to have the same fun as men and visit adult entertainment clubs catered to their tastes.
That's where this Nashville strip club comes into play. Perfect for a bachelorette party or any weekend event, ladies, you won't want to miss out on this one.
Final Thoughts
While strip clubs are not the most prevalent entertainment venue that Music City has to offer, there are still great options for adult entertainment and nightlife that will create a fun and unique night out for any bachelor/bachelorette party or turn any other night out into a brand new experience you won't soon forget.